Madrid is, of course, the capital of Spain and probably the most welcoming city in the whole country. The city has 3.2 million inhabitants and is known for its wild side (especially its nightlife!). A good way to sum up our amazing city is to say it's alive and culturally vibrant, so there are many Madrid attractions and a lot of things to do in the city. The city combines modernity with tradition and is constantly evolving. It is, for sure, a must-see European destination.
Knowing all of this, it's no wonder Madrid registered a new record of visitors last year, when over 2,18 million new friends came to town! We are at the top of our game!
Let's start off with a couple of historical facts on Madrid, true as far as we know, and we can get the boring stuff out of the way! Madrid is the gigantic city that it is today thanks to the many important influences that have marked the city's history. It was the Muslims in the 9th century who were the first to develop what was then known as 'Mayrit', a flourishing town.
In the 11th century, the Christian Reconquest arrived in Spain, ending the previous Muslim domination. Centuries later, in 1561, King Felipe II moved the Spanish capital from the beautiful Toledo (another must-see!) to Madrid, triggering Spain's Golden Age: the period of a greatest cultural movement in the country's history. Back then, the most important cultural characters lived in Madrid's Barrio de Las Letras neighborhood, such as Lope de Vega, Calderón de la Barca, and an old acquaintance, Miguel de Cervantes (sound familiar?).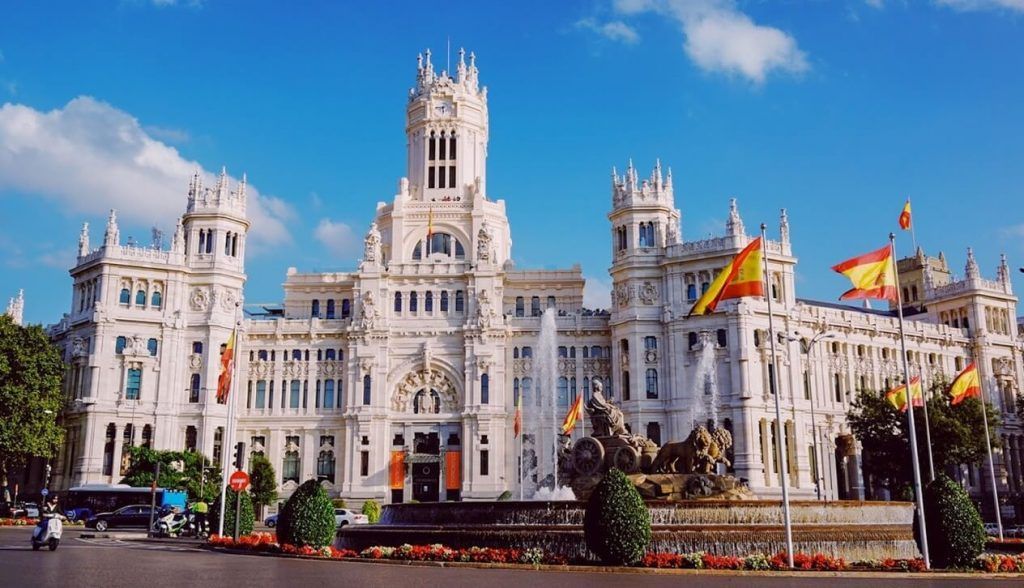 Then came the Bourbons in 1700 (funnily enough they are still reigning in Spain) and they made a BIG DEAL out of Madrid. King Carlos III, known as 'the best Mayor of Madrid', transformed the city through immense and ambitious projects. By that point, Madrid was unstoppable… until a certain Napoleon Bonaparte decided to mess with the government. He managed to take over the country and so he placed his brother José Bonaparte as King. José was nicknamed in Madrid as 'Pepe Botella' (Joseph Bottle) because he did like to hit the drink…
On May 2, 1808, the people of Madrid rose up against these French invaders, instigating the revolution that would then provoke the Peninsular War (our very own Independence war). Watch out for those Madrileños!!!
In the 19th century, Madrid continued to grow and grow just like many European cities at that time. The capital once again knew no limits, until the Spanish Civil War started in 1936: a very tough moment in our nation's history when the country was torn in two. If you are a bit of a history nerd, you can find some really cool stuff about the Civil War in Madrid.
Forty looong years in Franco's dictatorship took its toll on Spain, causing a setback in the country's development and evolution. Madrid, seeing as it was the capital city (and Franco's headquarters) didn't take as big of a hit as the rest of the country. After all, Madrid had to represent Spain and put on a brave face for the rest of the world.
After Franco's death, Madrid lived through some turbulent years amid Spain's transition to democracy (we even witnessed a coup d'état… pfffff). Little by little, the city began to free itself from all the former turmoil. The Movida Madrileña years brought back that desire to live and thrive to the city, which started seeing new stimulating architectural and political projects appear.
Nowadays we are still living in a changing city, hurtling into the future. Madrid is now more alive than ever before…So let's ditch the history and go ahead and tell you…
MADRID ATTRACTIONS: TOP 40 THINGS TO DO IN 2023
1. La Plaza Mayor
Madrid's main square is the city's most emblematic corner, tucked away in the center of the city. It dates back to the 16th century, and back then, it was the city's main market square. It was the scene of big happenings such as bullfights and public executions -by hanging, or beheading (grim). Today, Plaza Mayor is the place to be for all tourists. A statue of iconic Spanish King Felipe III stands tall in the middle of the square for all to see.
2. Puerta de Alcalá
In 1778, the construction of Madrid's 'Alcalá Gate' was started by order of everyone's favorite king: Carlos III. It was one of the five ancient gates through which French travelers could access the city. In fact, it was the first arch of triumph to be built in Europe after the fall of the Roman Empire, even before Paris' Arc de Triomphe and Berlin's Brandenburg Gate (Wow!!)
Credit: Alvy (Wikipedia)
3. Retiro Park (Parque del Retiro)
Our own little version of Central Park is our natural pride and joy. Every self-respecting Madrileño has enjoyed a Sunday boat ride on Retiro's awesome pond. This utterly beautiful park boasts a few unmissable artistic references: architectural, sculptural and landscape creations from the 17th to the 21st centuries. Did you know that hidden in Retiro is one of the world's few statues dedicated to Lucifer??? 'The Fountain of the Fallen Angel' stands at an exact height of 666 meters above sea level.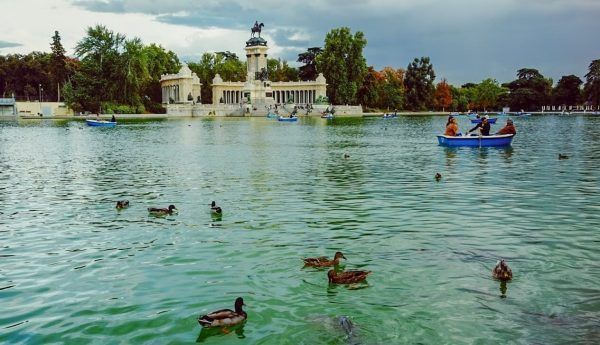 4. Royal Palace
This colossal building was the residence of the Spanish monarchy for centuries and is actually the largest royal palace in Western Europe. Among its vast collections is a number of impressively unique antique Stradivarius violins. Make sure you stroll through the palace's luxurious surroundings: the Sabatini Gardens and the Palazzo d'Orient.
5. Almudena Cathedral
Right next to the Palacio Real you'll come across Madrid's Almudena Cathedral. Legend has it that in 1803, Alfonso VI, who reconquered Madrid, became obsessed with finding an icon of the Virgen Mary supposedly hidden within the walls of the citadel. He (apparently) drove himself insane praying so much until part of a wall collapsed and revealed the holy image. This is why he chose this exact location for the cathedral.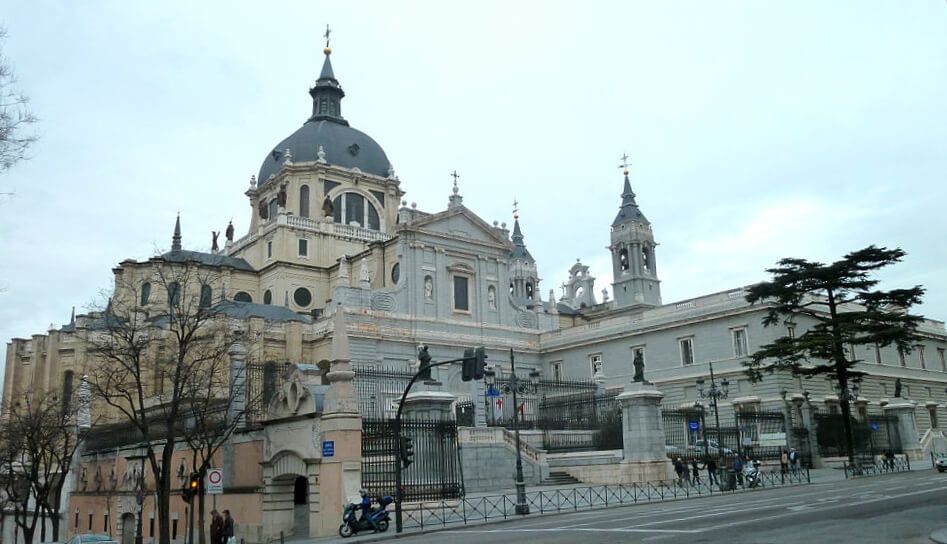 Credit: Luis García (Wikipedia)
6. Gran Vía
Probably the most well-known street in all of Madrid. This street is THE icon of Spain's golden age for cinema and theatre, kinda like our own little Broadway. Gran Vía became famous for hosting the most important premieres; full of dazzling lights and of course red carpets. It's actually slowly being turned into a pedestrian walkway. Definitely one of the best views of the city!
7. Prado Museum (Museo del Prado)
Prado Museum is one of the most important art museums in the WORLD. El Prado contains over 35,000 works of art, including a collection of royal artworks by their majesties who enjoyed dabbling with a paintbrush. The building itself was built during the reign of Carlos III but was not inaugurated as a museum until 1819.
Fun fact: during the Spanish Civil War, the largest ever number of artworks was transferred. All these pieces were taken to Geneva (Switzerland) to save them from being destroyed. On its walls hangs 'the other Gioconda' since 2012, an enigmatic copy of the original piece, with an unknown origin.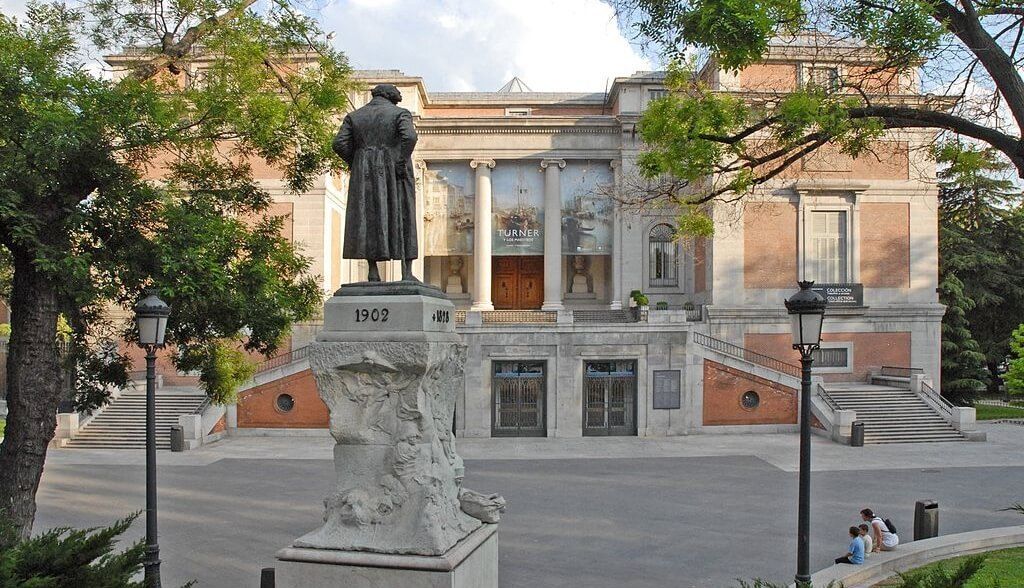 Credit: Jean-Pierre Dalbéra (flickr: dalbera)
8. THYSSEN-BORNEMISZA MUSEUM
Inaugurated in 1992, this museum was originally dedicated to the personal art collection of the Thyssen-Bornemisza family. Inside you'll come across masterpieces you won't find anywhere else in Spain, from the most classical art to the most avant-garde styles. Along with the Prado and the Reina Sofía Museums, it completes the "Golden Triangle of Art" in Madrid. The museum's most popular exhibit was the Edward Hopper one, registering 322,437 visitors.
9. Puerta del Sol
One of the top things to do in Madrid. The center of the center, and only three minutes from Cats! Sol was a very important crossroads for centuries upon centuries, and is now the center point (Km 0) of the radial network of Spanish roads. The oldest building in the plaza (Casa de Correos) contains an ancient clock that chimes at midnight on December 31, marking the traditional eating of grapes for the last twelve seconds of the ending year. You should try this!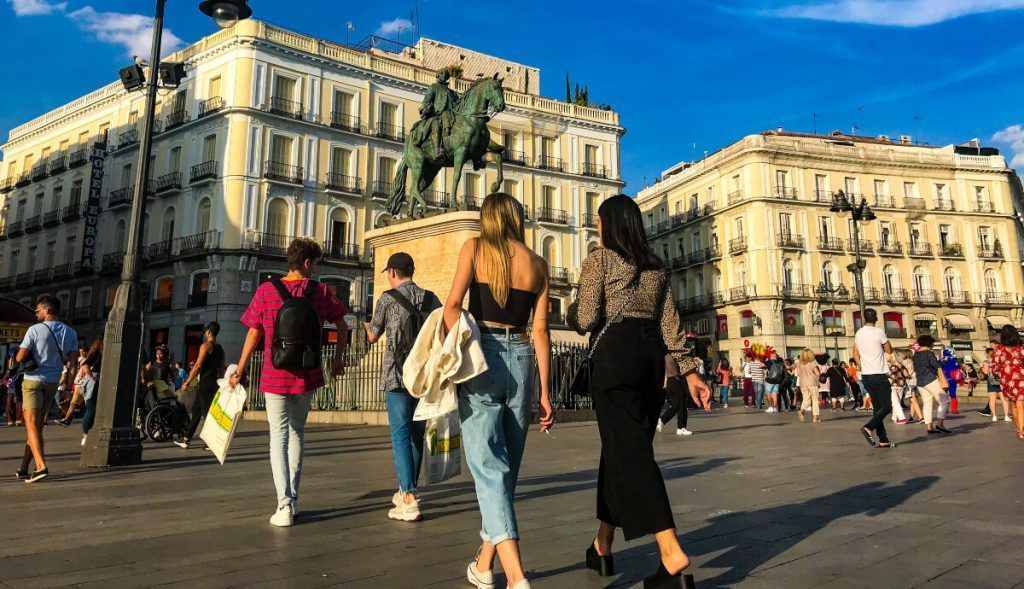 10. Reina Sofia Museum
Last but not least, Reina Sofia is the museum that completes the "Triangle Of Art" we mentioned before. This museum of contemporary art is in a building that was completed in the 18th century and served as Madrid's General Hospital until 1992, when it was re-baptized as a museum. Home to works by the big names in Spanish 20th century art, Reina Sofía boasts pieces by Pablo Picasso, Salvador Dalí and Joan Miró.
Rumors say that the souls of the people who passed away in the old hospital still roam the halls of Reina Sofía. If you're into spooky stuff, this could give this museum extra points!!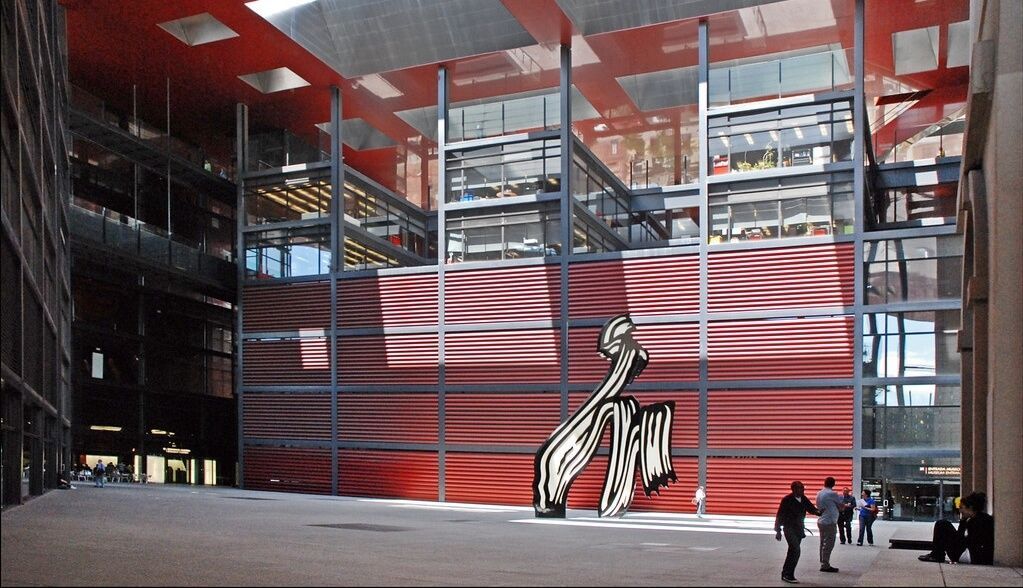 Credit: Jean-Pierre Dalbéra (flickr: dalbera)
11. Matadero
From the most conventional styles of art to the most shockingly modern. Matadero is where it's at! This former slaughterhouse and livestock market has now become Madrid's prime space for multicultural exhibitions of all kinds.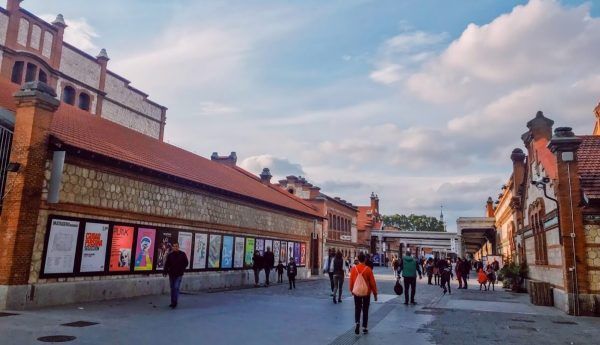 12. Caixa Forum
Another place to enjoy a variety of culture. It's tucked away on the noble and grand Paseo del Prado Avenue. The many intriguing exhibitions on offer will wow your socks off.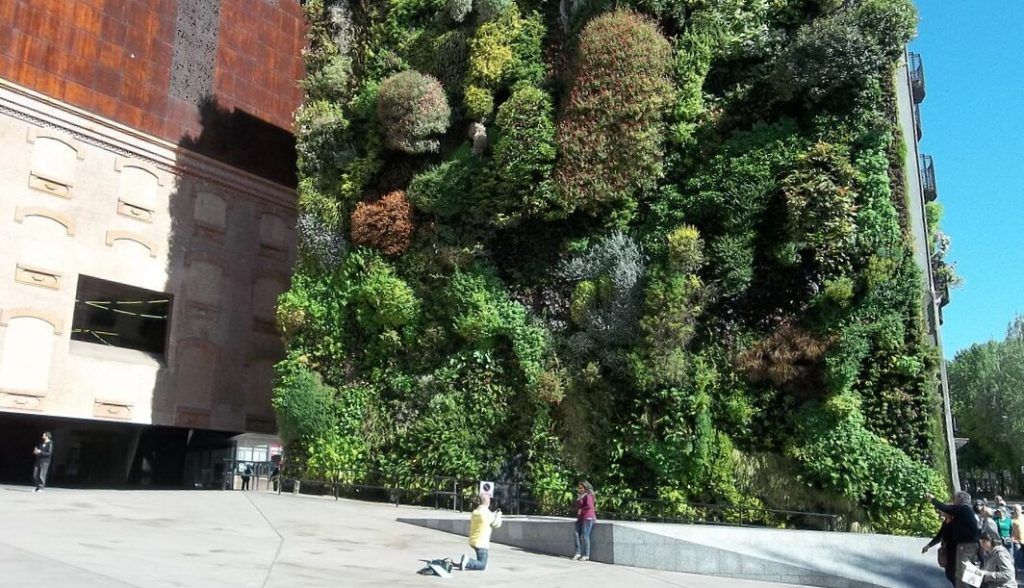 Credit: Mike.dixon.design (Wikipedia)
13. Espacio Fundación Telefónica
The city's trendiest street, Fuencarral, has a spot reserved for the most curious travelers. Feel like quenching your thirst for knowledge? There's always something to learn and take in here.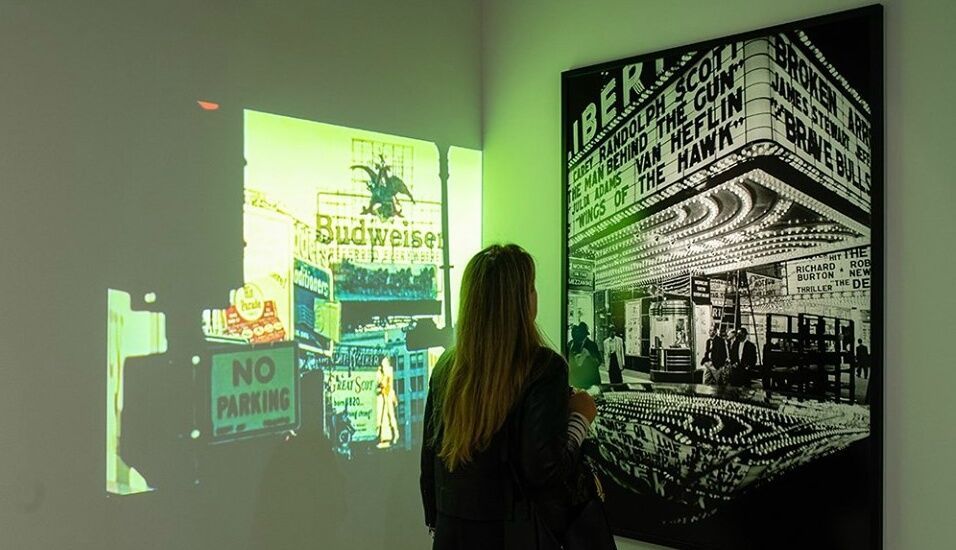 Credit: Fundacion Telefonica Facebook
14. European football capital
We live, breathe and eat soccer here in Spain, and Madrid is where it all comes together. Worldwide famous teams Real Madrid and Atletico de Madrid are top attractions in the city and more and more visitors turn up each year to support them in their big matches. Attending a match of any of  Madrid's football teams is a magical and intense experience! The Santiago Bernabéu Museum is the busiest in Spain (it's just how we are here!!) and the Cívitas Metropolitano Stadium is considered one of the most beautiful in Europe. Check this out!
15. "Cañitas"
You simply cannot travel to Madrid and not fall in love with our cañas culture. Here in Madrid, everyone goes out for a cañita (beer), or two, or three! The caña glass actually has its own precise measurement and shape, designed just right so the beer doesn't get warm. Madrid is always packed with friends, couples and families all getting together for cañas. It's the unspoken law here! Cats Hostels is here to offer you the best route to get into this noble art of cañas and tapas!!
16. Plaza de España
One of Madrid's most symbolic and elegant plazas. Here you'll spot a huge statue of historically famous writer Miguel de Cervantes and his fictional characters Don Quixote and Sancho Panza. It's right at the end of Gran Vía, so wander down and marvel at this plaza in all its glory! Note for you foodies: hidden underneath the plaza is the most amazing tiny yet authentic Chinese food restaurant.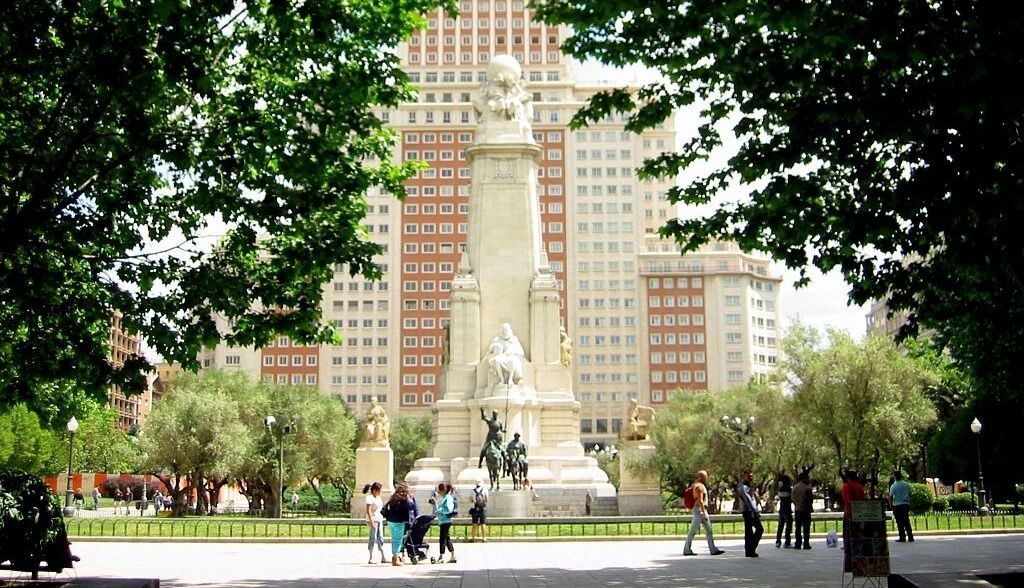 Credit: Manuel M. Vicente (Wikipedia)
17. Cibeles palace
Visit this iconic image of Madrid is one of the top things to do in Madrid. Cibeles is Madrid's City Hall. This gorgeous building faces the Cibeles Fountain and was built in 1907 to serve as the central headquarters of Spain's Post Office. Cibeles is one of the first examples of European modernist architecture. Don't miss out on seeing its Crystal Gallery: an open space, crowned by a 30-meter glass dome, where the Post Office vehicles used to be kept.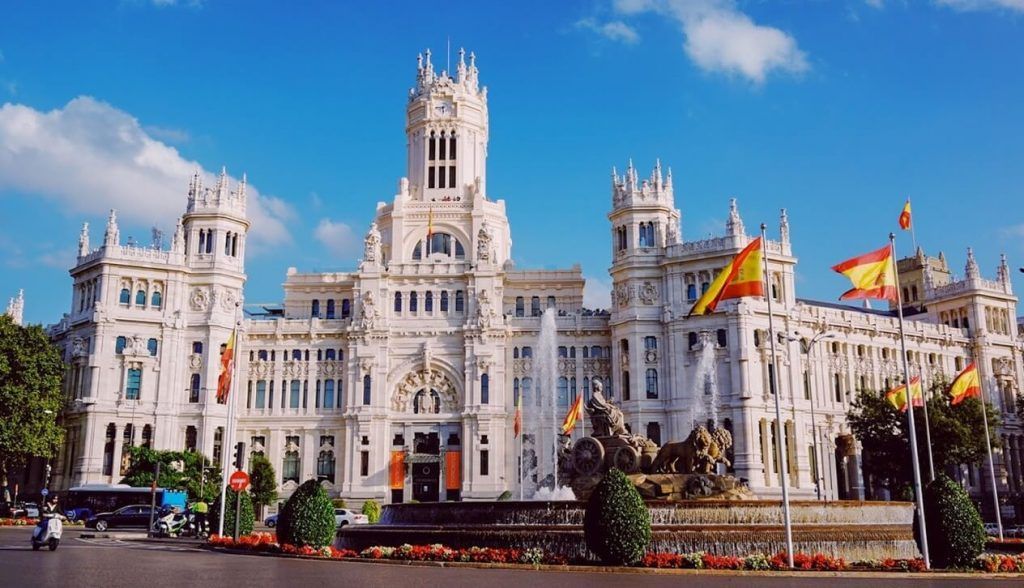 18. Templo de Debod
Yep, that's right! Madrid has a spectacular Ancient Egyptian temple slap-bang in the middle of the city center. The Temple of Debod is one of everyone's favorite night-time strolls, and one of the best places to take in the city's sunsets. The history behind it is very cool: it was given as a present from Egypt to Spain in 1968 as a sign of gratitude for the help provided by Spain in saving the Abu Simbel temples, which were endangered by the construction of a dam. Definitely, One of the most iconic Madrid's attractions.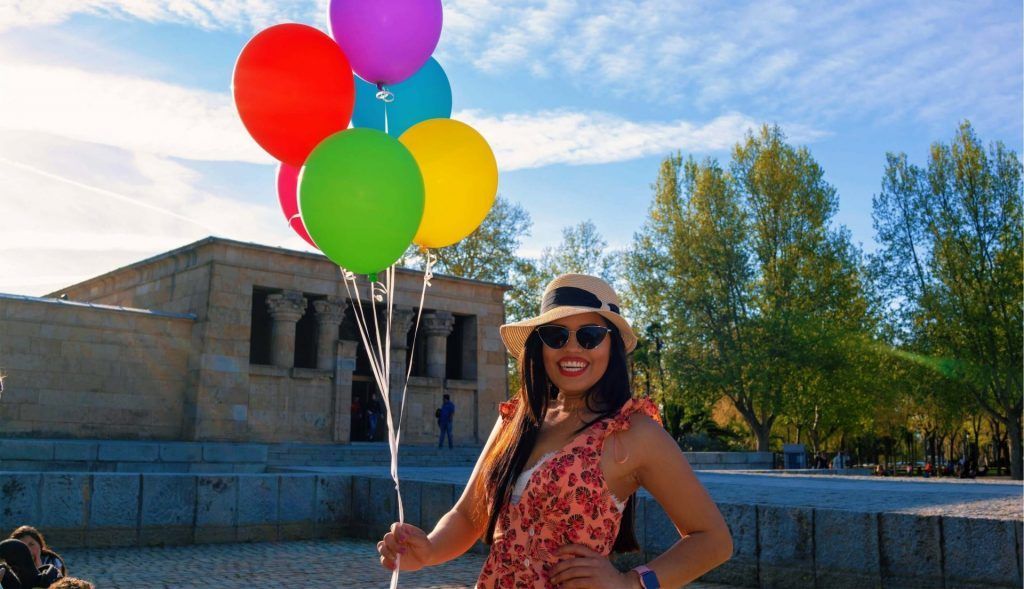 19. Nightlife
Madrid is well known for its crazy party culture that carries on till the early hours of the morning. Not only do we have BIG nightclubs like Kapital, Le Boutique, Fabrik… but we cater to all. Hidden away in the winding streets that run through Madrid's center you can find a million different little bars and pubs to have a drink and then carry on the wild night! Here you have the list of best nightclubs in Madrid.
That's why it should be included in the top of things to do in Madrid. As a traditional initiation ritual into Madrid's wild nightlife, we highly recommend joining our legendary Pubcrawl!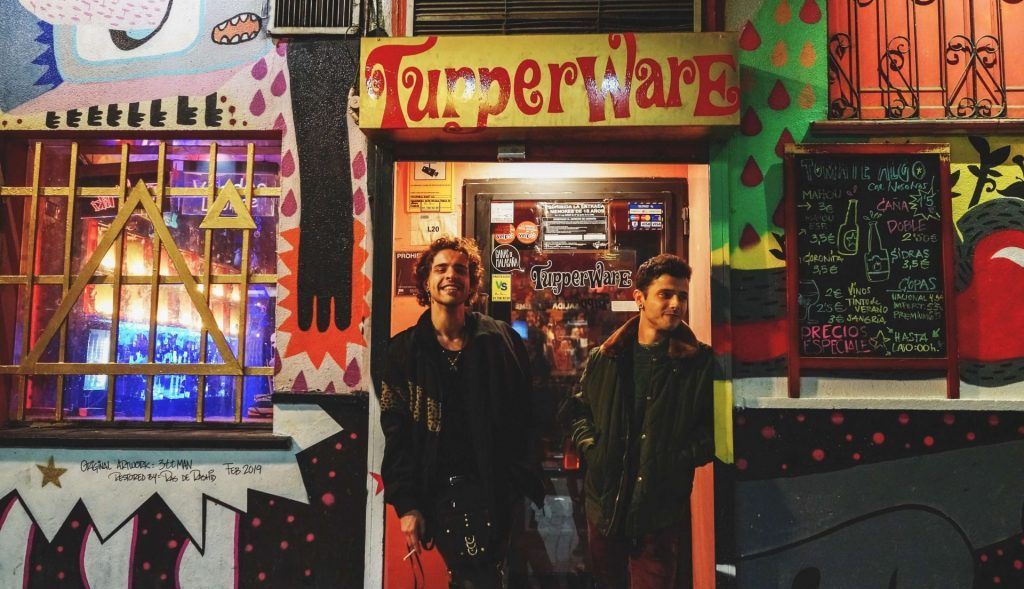 20. Madrid's many markets
One for the foodies. During your strolls through Madrid, you'll notice there are quite a few mercados about, even on the busiest streets! These old produce markets have been transformed into neat spaces to grab a bite to eat, and of course, have a caña! The most well-known ones are The Mercado de San Miguel (near Plaza Mayor), San Antón (Chueca), San Ildefonso (Tribunal) and Antón Martín (right next to Cats). Get with this tasty trend!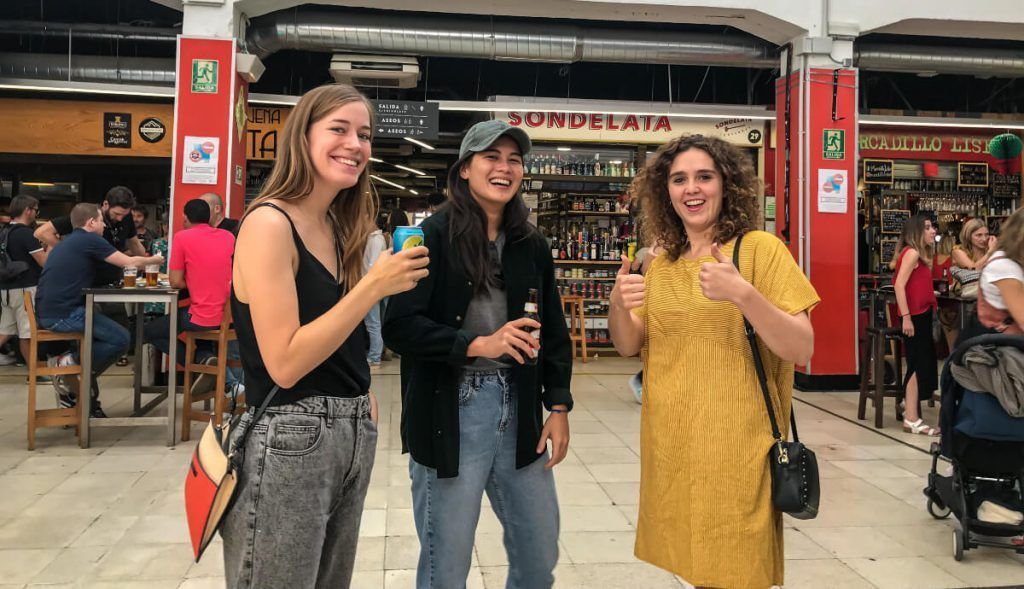 21. Las Ventas
So yeah, whether we like it or not, bullfighting is still a cultural tradition in Spain. If you happen to be a fan, or if you ever wanted to just check it out, the Ventas Bull Ring (Plaza de Toros) is seen as a bullfighting "cathedral in its area. If it ain't really your thing (we get it), you could even just take a quick peep from afar!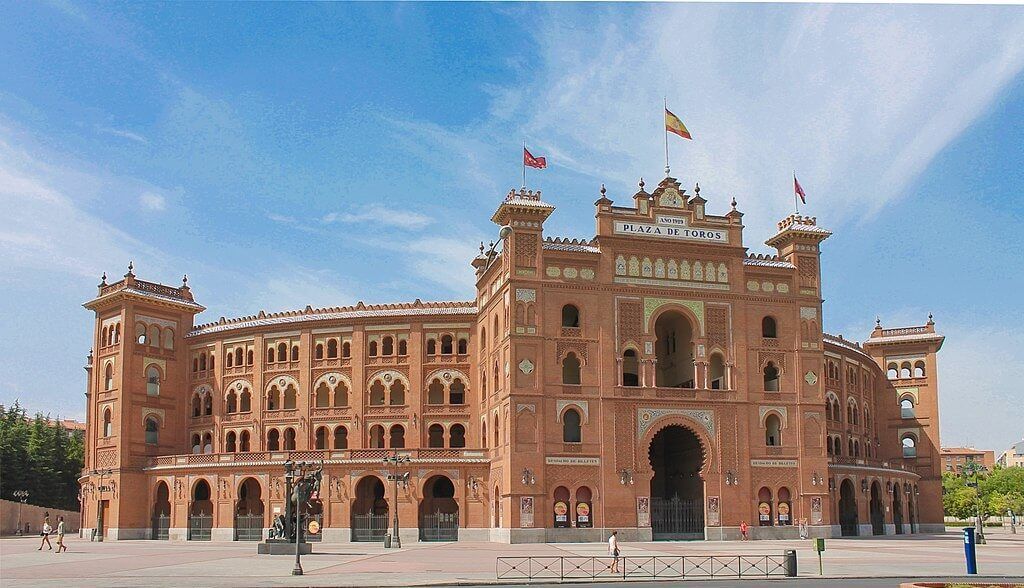 Credit: Luis García (Wikipedia)
22. Theatre
Madrid is not only the capital city of Spain; it's the cultural capital of the country as well. Madrid's vast number of theatres, of every shape and size, is a delight to anyone who enjoys being enthralled by a good performance. The most spectacular ones are on Gran Vía (we did say it was our own little Broadway). However, you should also check out the more independent venues (Espacio Guindalera, Cuarta Pared,…).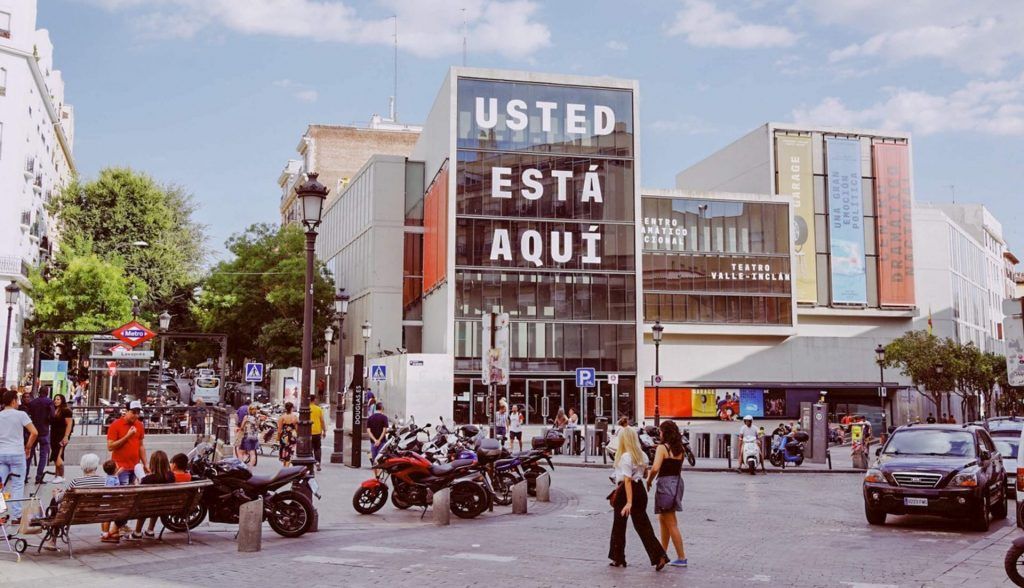 23. Neptune and Cibeles Statues
These two are for sure the most famous statues in our beautiful city, for soccer-related reasons (naturally). Our two greatest teams celebrate their victories in these statues!
24. San Isidro festivities
Our very own grand traditional fiestas. Around the 15th May, every Madrileño heads to the Pradera de San Isidro area to celebrate their city to the sound of the chotis music (very VERY traditional music, from your grandpa's time). If you're here around that date make sure you check it out, it's an authentic fiesta and fun for all!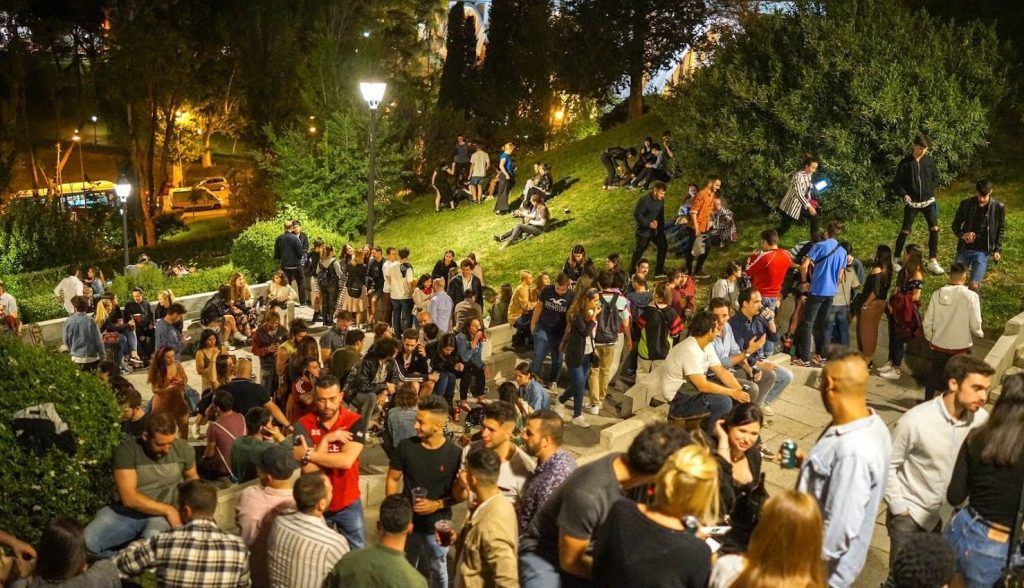 25. Toledo
If you are thinking of going on a little day trip, TOLEDO is your absolute best bet. It's a stunning city that looks like it should belong in a storybook. Toledo is famous throughout Spain for having artistic influences from the three great dominating cultures throughout Spain's history: Muslim, Jewish, and Christian. We give it our Cats seal of approval, to be fair everyone else does too!
26. La Latina
The cool thing about Madrid is that each barrio (neighborhood) stands out for having its own personal identity. La Latina is a traditional central barrio that has become super famous in the last few years for its terraces upon terraces filled with cañas and laughter. Weekends were meant to be spent in La Latina.
27. Malasaña
If there is a hipster neighborhood in Madrid, this is MALASAÑA. This central barrio is dotted with cool and hip clothing stores, modern and edgy restaurants and alternative little bars. Malasaña is a prime example of "gentrification" as a concept; it transformed from an unknown little area in the 80s to the up and coming coolest place to be.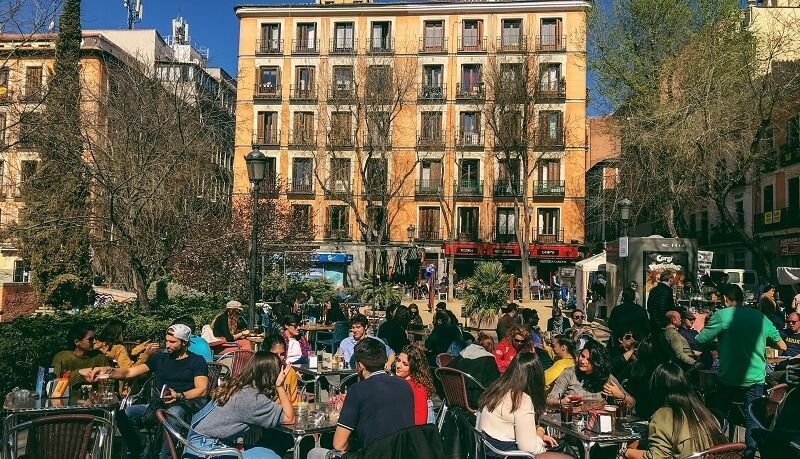 28. Barrio de los Austrias
You'll definitely stumble upon this neighborhood when you're out discovering the center. It's hard to miss. It was once upon a time the medieval epicenter of Madrid, hence the fact it's so very classic and stately. Everywhere you look is the perfect backdrop for a peaceful and romantic evening stroll.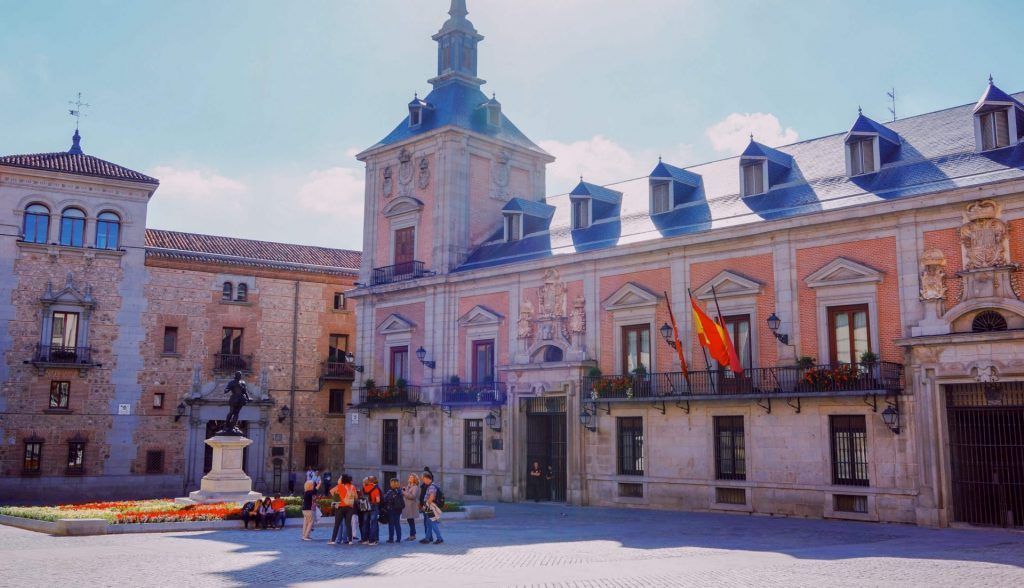 29. Chueca
OK so you MIGHT be familiarized with Chueca for being Madrid's gay neighborhood, which is 100% true, but it is more than just that. Chueca represents togetherness, mixed with a fun and exciting atmosphere. It actually has some of the top bars, restaurants, and discos in all of the land. If you want to flaunt your freedom and have all of the fun: it's Chueca time!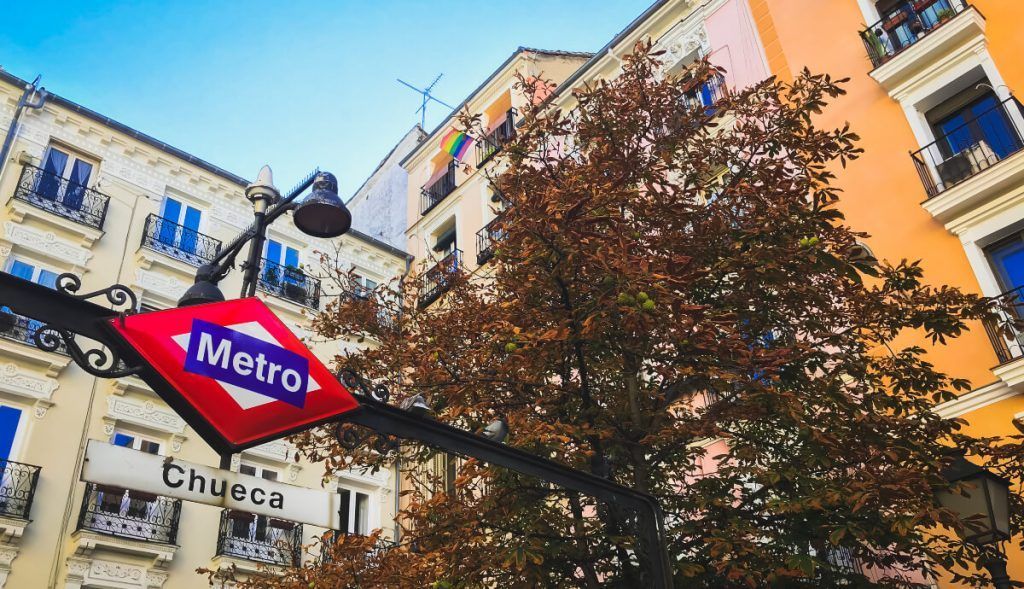 30. Lavapiés
Official Cats Madrid Lavapiés headquarters. Madrid's bohemian and multicultural spot welcomes all. People from all over the world live in harmony in the lovely Lavapiés area. Typical restaurants from any county you fancy are a guarantee here.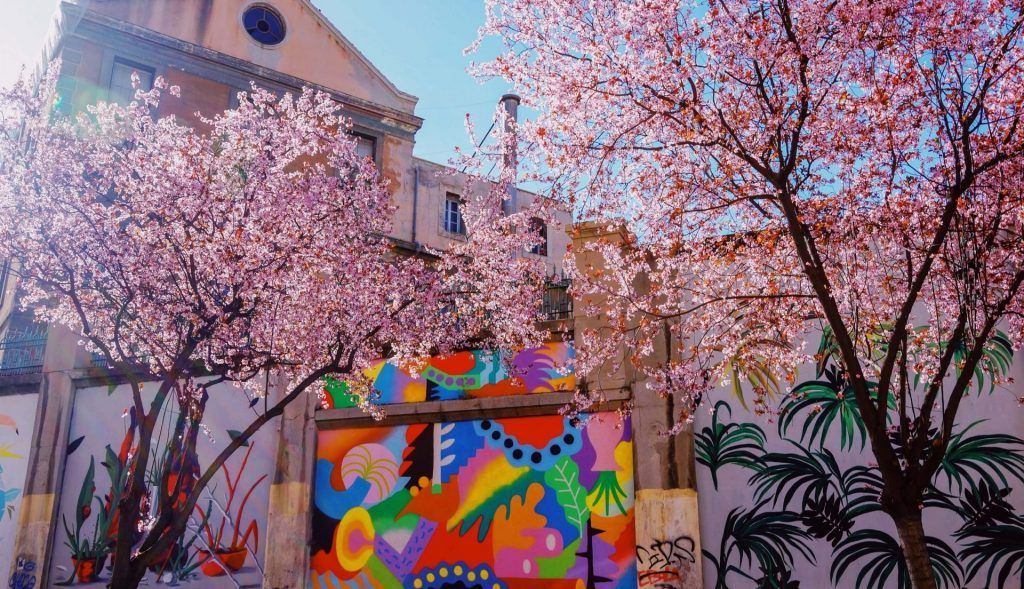 31. Cocido madrileño
This is Madrid's take on a traditional stew, and it is something you just have to experience while you're here. This key dish is overflowing with chickpeas and featuring all the kinds of pig meat your mind can come up with. The cocido Madrileño is supposed to be served and enjoyed while surrounded by your favorite people, in the perfect atmosphere. A nice bottle of wine is an IDEAL pairing.
Credit: Rubendene (Wikipedia)
32. Bocadillo de Calamares
We aren't sure if there really is anything MORE typical in Madrid than this baguette filled with freshly fried squid rings. One of the best tapas in Madrid, according to the locals! Pro tip: you want to get your hands on one of these bad boys in one of the little bars surrounding Plaza Mayor but never actually INSIDE the Plaza. Trust us on this one. Best served with a nice cañita among friends!
33. Churros
Calories upon calories. This delightful dessert food is famous throughout Spain and especially in Madrid. Just in case you haven't tried them yet, churros are a semi-sweet dough that is fried and served nice and warm, and ready to be dipped in hot chocolate and devoured. It is the most powerful antidote for a hangover known to man (for real), so make sure you end a wild night out with some of these! You must go to Chocolatería San Ginés and try the best "churros" of Madrid.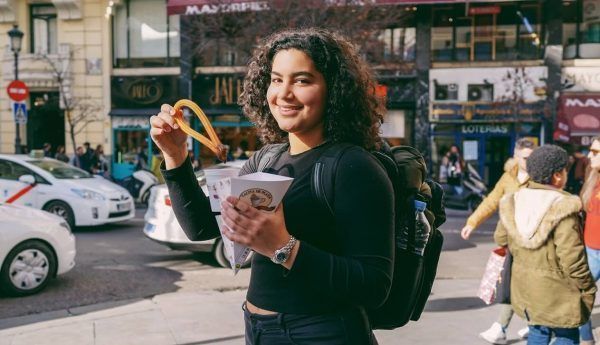 34. The weather
One thing that you can always count on to cheer you up, our little northern pals, is Madrid's amazing weather! The sun shines here on average 300 days a year, according to EU data, and hey, no complaints from us! With the rays of sunshine come happiness and motivation. It's the perfect excuse to always be outside or visit any of our favorite rooftops terraces!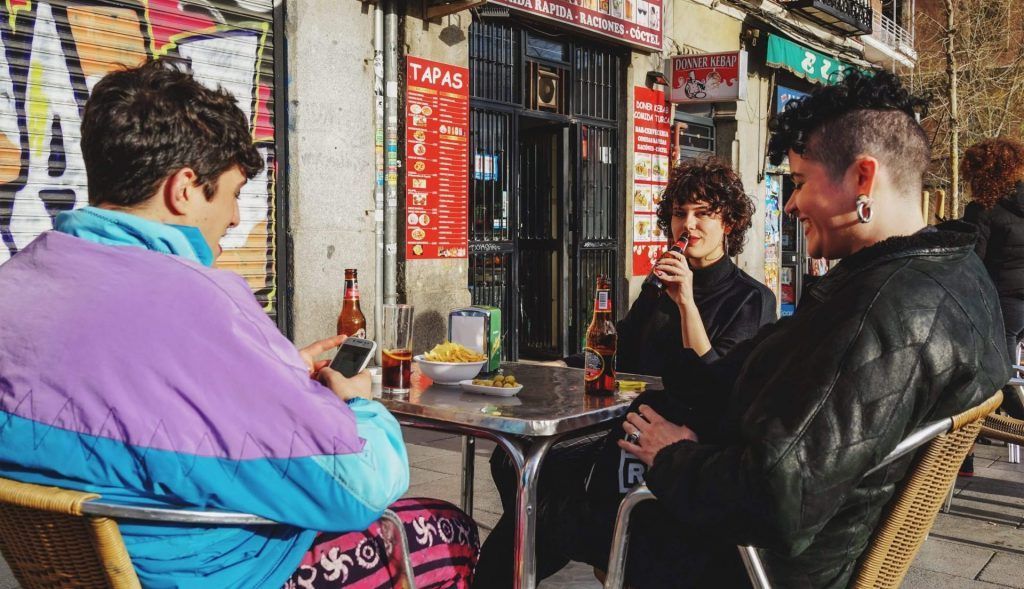 35. Parque Madrid Río
Our river, the Manzanares, may not be the grandest in the world, but we still love it! We also decided to do it up and make its surrounding area very pretty. After a huge urban works project, the river area is now one of the best places to go and take a stroll to disconnect from the hustle and bustle of the city.
36. The Four Towers
Four skyscrapers popped up one by one in Northern Madrid, transforming the city's skyline. Their contemporary architectural design stands out from the other more traditional buildings in Madrid. In addition, the four towers are one of the Money Heist locations. Definitely, a place to take a good insta pic!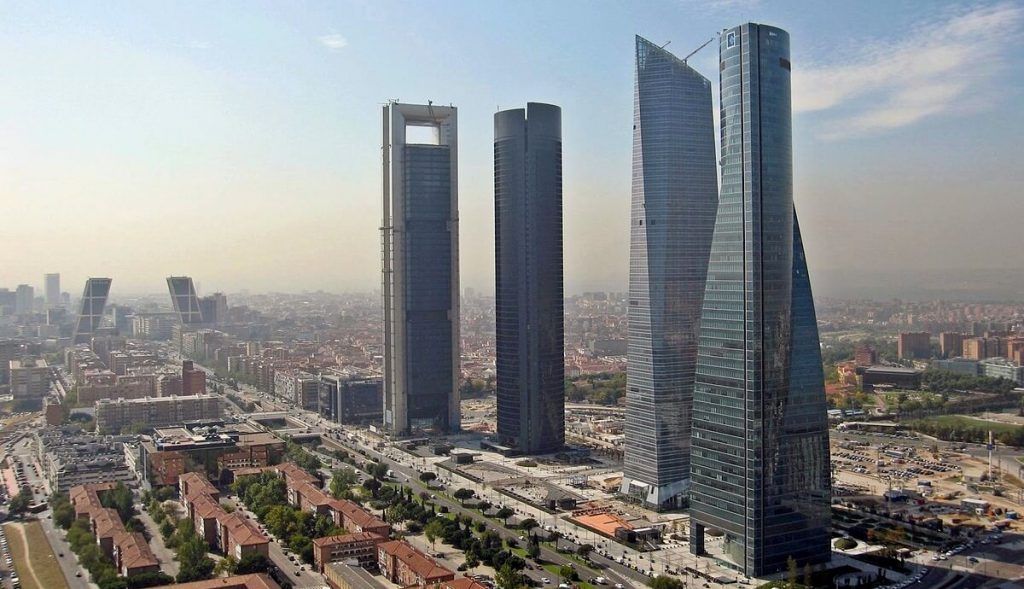 Credit: Eurostarshoteles (Wikipedia)
37. Parque de El Capricho
So this park is one of Madrid's most bizarre elements. It covers 14 hectares and is located slightly before you get to the city. The Duchess of Osuna ordered for its construction (1789-1893), and it is actually the only romantic-style park in the whole of Spain. It features labyrinths, mansions, a ballroom hall, and some adorable little creeks and ponds with ducks and swans!
On top of all this, one of the park's big attractions, quite contradictory compared to the rest of it, is an old Republican Army Civil War bunker. Crazy or what?! Check here the best parks in Madrid!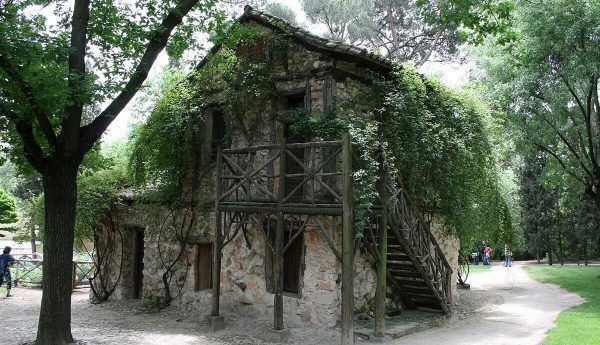 38. Aranjuez
Another unmissable day trip you simply have to include in your Madrid itinerary is heading down to Aranjuez, a town to the south of the Community of Madrid. Photos just don't do it justice. It served as a recreational area for the Spanish royals in the 16th century… Picture amazing parks, palaces, fountains, monuments… It's very worth the visit.
Credit: Barcex (Flickr)
39. El Escorial
Just like Aranjuez, El Escorial is also an enchanting place with royal history and It is one of the most important tourist attractions in Madrid. It's located to the north of the Community of Madrid. Felipe II had this huge monastery built and it was a royal family residence for centuries.
El Escorial is also one of the most relevant examples of Renaissance-style architecture in Spain. The most powerful royals from the ancient Spanish Empire lay at rest in El Escorial. Make sure you make time to visit this wonderful place.
Credit: Credit: Zvonimir Stamenov (Wikipedia)
40. Parque Europa
Our final touch to this amazing list is an eye-opener alright! The Parque Europa attraction in Torrejón de Ardoz (about half an hour from Madrid center) is a huge esplanade that features replicas of all of Europe's top attractions! They are made to scale, of course, but still are very impressive. Come and check it out!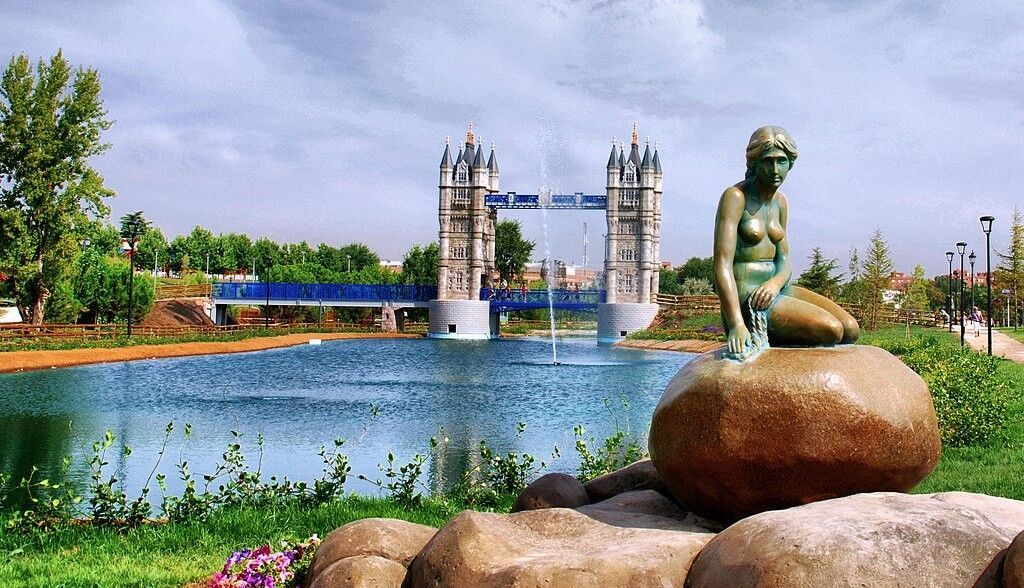 Credit: Alfredo.zaragoza (Wikipedia)