As temperatures rise at the beginning of spring, locals and residents run to one of the many parks in Madrid to sunbathe. The same ritual is repeated at the beginning of autumn when nobody wants to say goodbye to the heat. But friends, Madrid has pleasant weather all year round and its green areas can be enjoyed anytime! Here's everything you need to enjoy the best parks in Madrid:
1. RETIRO PARK
The Buen Retiro Park, literally "Park of the Pleasant Retreat" is better known as El Retiro and is one of the best parks in Madrid for locals and visitors! You will find people walking, skating, cycling, playing sports, reading, picnicking, or sunbathing. One of the most striking things is the beautiful Crystal Palace, a must-see. It hosts temporary exhibitions that you can visit for free. If you enjoy art exhibits, check out the ones of Palacio de Velázquez and the Casa de Vacas Cultural Center as well.
Have a stroll at Bosque del Recuerdo, (Forest of Remembrance) built as a tribute to the victims of the 11M attacks. And do not miss the monument to Alfonso XII, an area that is always bustling with people playing batucadas. And right in front of this, there is a pond where you can rent a boat for an hour and take a super cool picture for your Instagram!
Opening hours: 06:00 a.m – 0:00 a.m. (April – September) / 06:00 a.m. – 10:00 p.m (October – March)
How to get there: From Cats Hostel Madrid Sol, approximately 20 minutes walking, or same time if you go by metro from Antón Martín to Estación del Arte.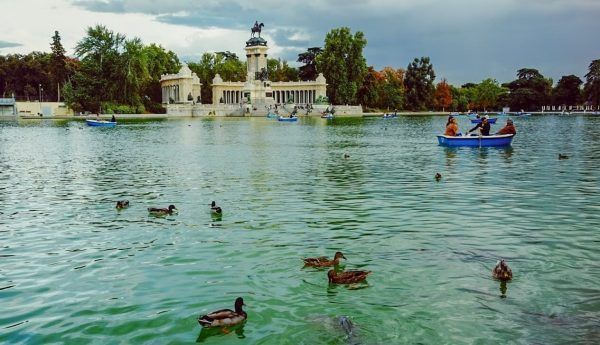 2. ROYAL BOTANICAL GARDENS
Located very close to Retiro Park, the Royal Botanical Garden is also worth a visit at any time of the year. For €4 (or €2 if you are a student) you can visit the most diverse collection of plants in Spain. Some 5500 living species are exhibited in small gardens and greenhouses! There are labyrinths, stairs, and a cafeteria as well. Do you fancy a glass of wine or a coffee in nature?
Curiously, the garden was created next to the Royal Palace of Aranjuez, a residence of Spanish royalty within an hour of Madrid. Later it was located near the Manzanares River, and due to its continuous expansion, it was finally moved in 1774 to its current location. Much better for you, because it is literally two steps from the Prado Museum!
Open to the public hours: 10:00 a.m. – 6:00 p.m. in winter, 10:00 a.m. – 7:00 p.m in March and October and 10:00 a.m. – 9:00 p.m. from May to August.
How to get there: From the hostel, approximately 15 minutes walking, or the same time if you go by metro from Antón Martín to Estación del Arte.
3. PARQUE DEL OESTE
Parque del Oeste is another park in the city center located near Plaza de España that extends into the university area. Most people gather around the famous Debod Temple, one of the must-see sights of Madrid, but it is not the only thing you can see here. There is also the Rose Garden, an area full of national and international flowers, and the cable car station that will take you to Casa de Campo.
Don't miss the monument to Juan de Villanueva, one of the most majestic fountains in Madrid. And if you like to walk around cemeteries (hey, do not look at us like that, it's a thing!), here you'll find the Florida Cemetery.
Opening hours: El park opens 24h. Rose Garden from 10:00 a.m. – 7:30 p.m. Mon-Sun and Debod Temple from 10:00 a.m. – 8:00 p.m. Tue-Sun and holidays
How to get there: Metro Ventura Rodríguez (L3). Approx. 27 min. from the hostel
Credit: Diario Madrid
4. CASA DE CAMPO
If Retiro Park seems big to you, don't get surprised when you see the size of Casa de Campo! It is much larger than New York's Central Park and London's Hyde Park. It has even an amusement park and a zoo. In the area of the lake, there are bars and restaurants and therefore, that's where most people go out for walks. But if you feel a bit adventurous, you can move towards the greenery and discover all the unique trees there are (some are well marked in Google maps).
You can also take the cable car that we mentioned above but in the other direction, towards Parque del Oeste. It is one of the most popular parks for outdoor sports (although there is also a large sports complex here) and it is also chosen by many for picnics and friend's celebrations, since there is no lack of space!
Opening hours: Mon–Sun 6:00 a.m. a 1:00 a.m.
How to get there: From the hostel, you can walk to the lake area in 35 minutes. For the area of the cable car and the Amusement Park, you can get off at Batán (L10) and arrive in about 30 minutes.
Credit: César Ruiz
5. PARQUE JUAN CARLOS I
Juan Carlos I Park is the main municipal park in Madrid. It's not very frequented by travelers since it's not the center, but is very popular among locals since it is the most suitable for sports: jogging, cycling, skating, and even canoeing on the lake. You don't have to feel sporty, some people just go to lie down on the wide grassy areas or have a picnic.
This park has many modern sculptures (any Instagrammers in the house?) And here comes the good news: they have a free bike rental service! You just need to show a form of identification at the collection point and return the bicycle within one hour at the same point. If you're not sporty at all: there's a train every half hour that runs the park for free.
Opening hours:
Jun-Sep: Mon-sun 7:00 a.m. – 1:00 a.m.
Oct-May: Sun-Thu 7:00 a.m. – 11:00 p.m. / Fri-Sat 7:00 a.m.  – 00:00
How to get there: Metro Feria de Madrid (L8). Approx. 50 min. from the hostel
Credit: Nils van der Burg
6. SABATINI GARDENS
The Sabatini Gardens are next to the Royal Palace, so they turn out to be an almost mandatory stop for visitors. And a popular spot for romantic couples. To be honest, the area is not best for a long walk, but rather to enjoy a moment of tranquility and, why not, for taking some beautiful pictures!
Its style is neoclassical and from the entrance, you can appreciate its symmetrical form. There is a rectangular pond in the center guarded by several white marble sculptures, which are the statues of ancient Spanish kings. The walls of the upper area are also a great place from which to watch the sunset.
Opening hours:
Oct-April: Mon-Sun 9:00 a.m. – 9:00 p.m.
May-September: Mon-Sun 9:00 a.m. -10:00 p.m
How to get there: The nearest metro is Ópera (L2) but from the hostel, it is 19 minutes walking.
7. PARQUE DE LAS SIETE TETAS
Its official name is "Cerro del Tío Pío Park" but locals prefer to refer to it as "Park of the Seven Tits", a name much easier to remember, to be honest! But it was not a random name, as, they got inspiration from the seven hills that can be found here. It has unbeatable views of Madrid and the air feels pure and clean (because it's high, you know).
You can get an overview of the city and recognize the most emblematic high buildings from a few places in Madrid, but this is happens to be one of those places. Also, from these locations, you will see such a spectacular sunset. We recommend you bring a snack with you, relax, and enjoy it!
Opening hours: 24h
How to get there: Metro Portazgo (L1) from the hostel about 30 minutes.
8. PALACIO DEL PRÍNCIPE DE ANGLONA GARDENS
Hidden by high walls, it goes unnoticed by many who visit the busy Plaza de la Paja. It is one of the most forgotten gardens in Madrid since many people don't know that it is public and open to everyone. It is neoclassical and small, but with a lot of charm.
The fountain of the center and other elements are not the originals -we are talking about an 18th-century garden! But it has the original structure. Don't miss it when you go to La Latina for a 'tapas crawl' and you need a moment of peace and relaxation…
Opening hours: 10:00 a.m. – 6:30 p.m. (October-February) / 10:00 a.m. – 10:00 p.m.  (March-September)
How to get there: Metro La Latina (L5) or walking from the hostel just 11 min.
9. DEHESA DE LA VILLA
We could say that Dehesa de la Villa, is not a park, but rather a forest. And places like this, bring madrileños a lot of joy!! Especially in summer when we are in the hunt for shade. Here there are oaks, almonds, pines, and acacias. A bike lane links this park with Casa de Campo (the park we mentioned above), in case you are one of those who like to travel on two wheels. And if you enjoy bird-watching, you are also in the right place!
Opening hours: 24 h
How to get there: Metro: Francos Rodriguez y Valdezarza (L7)
Credit: Xausa en Wikipedia
10. CAPRICHO PARK
And we finish with one of the most beautiful parks in Madrid, El Capricho Park. It was created by the Duchess of Osuna (one of the main ladies of the Court in the mid-eighteenth century), who was motivated by intellectual environments and wanted to build a place where people around her could work freely: prestigious artists, gardeners, and designers.
It's full of ponds and canals, fountains, exotic plants and a great variety of flowers. Incidentally, the park hides a bunker of Spanish Civil War 15 meters underground. It was built there around 1937, due to its remote location from the war front, and its easy use for camouflage. You can visit it for free, but keep in mind that reservation is required well in advance.
Opening hours: Sat, Sun and holidays 9:00 a.m. – 6:30 p.m. (Oct – Mar) / 9:00 a.m. – 9:00 p.m. (Apr – Sep)
How to get there: Metro El Capricho (L5). Approx. 52 min. from the hostel