Finally!!! After a cold and rainy start to the year (who said climate change wasn't real?), summer is officially on the way, rolling into Madrid to light up our days and put a spring in our steps.
We can already feel it in the air. Visitors from all over the globe are landing in the city, injecting extra excitement and amusement into Madrid from June through September.
Movement bubbles in the streets, to the tune of flip-flops hitting the hot sidewalks. Patios fill with color and laughter, and Madrid's ambiance becomes, in an instant, the perfect stage for tremendous and unmeasurable fun.
And no no, we aren't just tooting our own horn over here… the statistics prove how amazing our summer really is. More reason to celebrate! Last year we hit a record 15 MILLION visitors. For the first time, there were more foreigners in Madrid than native madrileños!! And, of course, summer was the most popular month: hell yeah!
Among the unique midsummer madness, a couple of entertainment plans never fail to emerge each year… and 2018 is coming in hot with many a vivacious experience.
So here we are, with all the gossip, ready to whisper all of the best plans and unmissable events into your listening ears, to make sure you make this summer in Madrid your best one yet.
Big city mayhem
Veranos de la Villa events are about as well-known as Madrid's calamari sandwiches in Plaza Mayor. The City Council is prepping for this year's edition, which must live up to last years' masterpiece. 
Jazz concerts, electronic music parties in municipal swimming pools, avant-garde flamenco shows in Madrid, urban sports activities, circus performances, and jam-packed parties is what this year's Veranos de la Villa is all about. (80% being free of charge!). Expectations are at the absolute highest level. Tip: stay tuned to find out new surprises yet to be revealed!
Musical heatwaves
Summer in the Spanish capital wouldn't be what it is without its music. Mega festivals and famous musicians flock to Madrid to spice up (yeah, even more) the city's dance craze agenda.
As well as the Madrid Music festival we recently updated you on (Mad Cool, A Summer Story and Tuentis to name a few…) summertime always brings in new knockout musical shows like A Fuego Festival, and Universal Music Festival. If you are interested in a Mad Cool Hostel: Cats hostel Madrid Sol is your best choice… Ready music lovers?
Credit: Las Noches del Botánico
Las Noches del Botánico concerts also get a shout out, for bringing together a variety of stellar artists in Madrid's Botanical Gardens. This event is a delightful frenzy of sensations, nested in one of the city's natural corners.
Designer 'cañas' at the market
Traveling markets have become a statement in today's Madrid events calendar. The Mercado de Motores (Motor Market) is most likely the most known one: Madrid's old Railway Museum welcomes a series of vintage stalls, with products from rookie designers, offering a taste of gastronomy, music and, of course, beer.
Another popular market is Decoracción, hosted in the Barrio de las Letras area. Over four days more than 100 interior designers take to the streets to boast their most surprising pieces, breathing fresh air of creativity into the poetic district.
Hit it, Madrid! Street style!
Credit: @barrioletras
POPULAR STREET FESTIVALS
Diving even deeper into Madrid street party action! The stage is set, so is the candy floss stand… is that a barbeque we smell?? That's right, Madrid's neighborhoods flood with people, who huddle around the street beer stands flowing with drinks. Yep, you got it. It's Madrid's popular festivals! Each district holds its own, although they all have a lot in common.
The most well-known ones are: las Fiestas de San Cayetano and San Lorenzo (in Lavapiés), La Virgen de la Paloma (in Downtown Madrid), La Melonera (in Arganzuela) and La Fiestas del Carmen (in Chamberí).  You'll be spoilt for choice with all of the city's traditional street gatherings.
Fiestas de San Cayetano
Dancing Queens
If you're looking for a real party, and we mean PARTY (in caps and big bright neon signs), then look no further, as Madrid is the queen city for LGBT Gay Pride Madrid celebrations. The Spanish capital has held the title of the best LGBT pride socio-cultural-festival-madness event for many years now. From June 23rd to July 2nd, the city's population will more than likely double, not to mention its vivacity. Madrid becomes all kinds of uninhibited as music, color, and freedom spread through its core.
The hotspot is located in the Chueca district, where the legendary high heel race takes place every year.  The festivities all lead up to an immense parade that flows along Madrid's emblematic Gran Vía. 

Can't beat the classics
Looking past Madrid's large-scale events, the city's summer to-do list boasts many a chill experience:
Patio season: pretty much religion around here. An afternoon spent sipping beers, surrounded by friends, enjoying the light breeze (especially at dusk) is more than appetizing. Anywhere you wander around the city you'll see its typical little square-shaped patios in every nook and cranny, even on roofs! Rooftop patios are the best way to enjoy the city's breathtakingly gorgeous views. Definitely add to your list: Círculo de Bellas Artes, Dear Madrid Hotel, Forus Barceló and Palacio Cibeles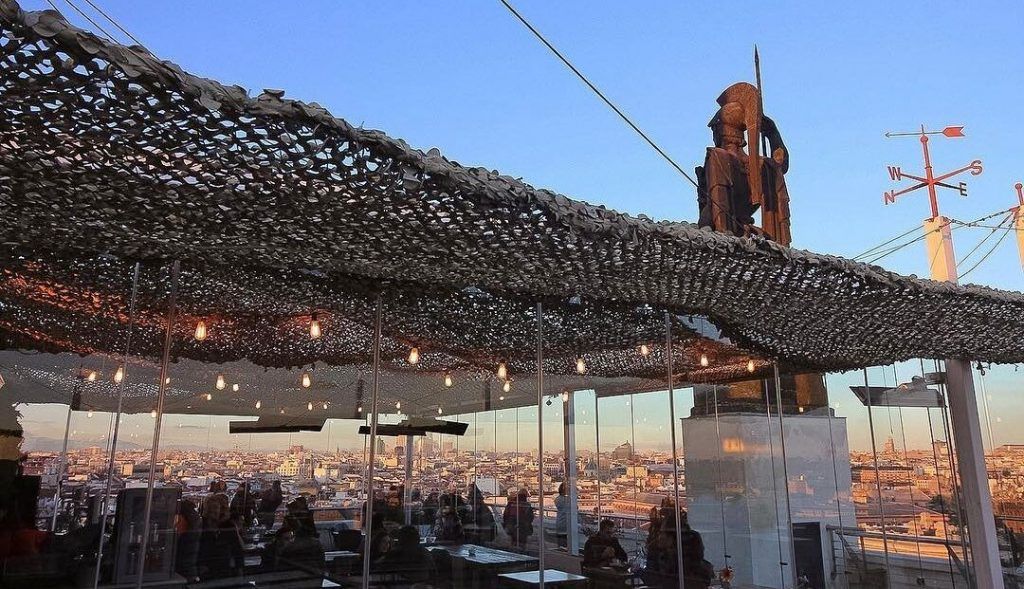 Credit: @azoteadelcirculo
Summer cinemas: They're quickly becoming a trend. Outdoor movie showings are always a cool way to enjoy the latest movie premieres in charming surroundings… Cine-In the Park (in Parque Tierno Galván), Fescinal (in Parque de la Bombilla), Cibeles de Cine (at Palacio de Cibeles), and the American-style Autocine Madrid (RACE), never fail to impress.
Urban and natural swimming pools: Here we have a classic summer plan. A quick dip in Madrid's municipal swimming pools, always a cheap and cheerful option, is the perfect way to escape the scorching heat. If you want to go all out and spend the day somewhere more au naturel… There are two key natural spots on the outskirts of the city, perfect for a soothing soak: Pantano de San Juan (San Juan Reservoir) and the Presillas Naturales de Rascafría natural pool are a must. Unfortunately, it is strictly forbidden to bathe in any other natural areas in the region.