We know we shouldn't brag, but we really gotta for this one! It's time to show you all what's up this summer in Madrid! When the nice warm weather takes over the city – basically like 9 months out of the year (just saying) – Madrid reclaims its title as world CAPITAL of patios / rooftops / roof terraces / sun decks you name it!
Okay, so we might have just self-proclaimed ourselves as the number 1 global destination for rooftop bars and patio terraces, but if there were an actual institution that decided upon this category – no doubt Madrid would come out on top! So what's our secret? Well, we have all the ingredients for a perfect patio season: amazing weather + upbeat ambiance + as many bars as you can imagine! All this makes for a pretty spectacular patio scene – no wonder it's so popular!
Madrid's endless variety of cool bars to hang out, whether you're looking for a sky-bar style place (today's special) or with your feet firmly on the ground, is an amazing way to live, eat and breathe the city and blend in like a local. Patio drinking is more IN than EVER. You only have to check out the facts to see that business is definitely booming in the restaurant business here.
Check this out: In our beloved city, there are currently 4,876 terraces of bars and restaurants registered. These enticing terraces combine around 169,000 chairs and are authorized to occupy 164,026 square meters between 15 March and 15 October each year. This overall area is literally the size of 1,300 football fields… Madness, right?
Credit: @casasuecia 
THE BEST ROOFTOP BARS IN MADRID
Competition is understandably rife in Madrid's bar scene, with restaurants and pubs on every corner… Many bar owners have decided to innovate and take a modern and exciting route… Rooftops! The only way is up!
Following on the trend that many cities have dominated now for a while, the rooftop business is booming indeed in Madrid. Sipping on a cocktail and taking in those spectacular views of Madrid… It's where it's at people!!
It is a fact that many of the Madrid's most treasured architectural secrets and most brilliant and intricate designs are hidden on the higher parts and roofs of the city's majestic buildings, blending into our bright blue sky… So what's the point in craning your neck constantly looking up while visiting everywhere? Let us save you the neck trouble and dish out some serious info on the 10 best rooftops bars in Madrid to enjoy these delights from – each and every one with the Cats Seal of Approval. Let's get it on!!
1. EL VIAJERO
A nice ol' classic to start. Tucked away in the magical La Latina district, El Viajero is a lovely lil' open-air attic that will steal your heart with its twinkly lights and homely feel. Everything about this bar screams authenticity, and perfectly represents the cheerful, festive and care-free essence of our capital. Oh, and the mojitos are to die for! From this charming little rooftop, you can see the grand church of the Royal Basilica of St. Francis the Great. Take it from us, it's worth the visit – and it's only 5 minutes away from Cats Hostel Madrid!!
Credit: @elviajeromadrid
2. LA TERRAZA DEL FLORIDA/ FLORIDA PARK
Undeniably, this is one of the most chic and one of the best rooftop bars in Madrid to enjoy a summer beverage in Madrid. Everyone who's anyone has heard of the new and improved Terraza del Florida – a venue with decades of history that now looks absolutely fabulous after a complete and utter makeover. Picture this: a breath of fresh air within the beating heart of Madrid's Retiro Park (the most important Park in Madrid). It looks like a dream, honestly. This rooftop is hidden away among the wonderfully green surroundings, so it's not the place to seek out amazing city skylines, but instead, a place to chill and enjoy an unbeatable natural ambiance.
Credit: @floridaretirooficial
3. ÁTICO 11
There's nowhere better to enjoy Madrid at night than by heading up to the top floor of the historic Hotel de las Letras. You'll have the city's busiest street, Gran Vía, right beneath your feet! Ático 11 is located on one of Madrid's most emblematic stretches, and is the perfect option for somewhere a bit up town, if you know what we mean. It's classy design and decoration and amazing crafted cocktails are the perfect combination to wow a first date or even live it up with your friends on a Friday night! The views of Madrid? STUNNING of course.
Credit: Iberostar Las Letras Gran Vía
4. CÍRCULO DE BELLAS ARTES
Now, brace yourselves because this is one hell of a rooftop. It's probably the most known terrace in Madrid, and no wonder! It's freakin' breathtaking! Madrid's cultural Círculo de Bellas Artes center is an impressive and imperial building in itself, but its rooftop really makes this establishment stand tall above the rest! (Pun intended). This huuuuge sky bar has a privileged 360º view of the city – and is divided into two sections, a chill-out lounge and the Tartan Roof restaurant side. Reserve your spot to make sure you don't miss out on this absolute must.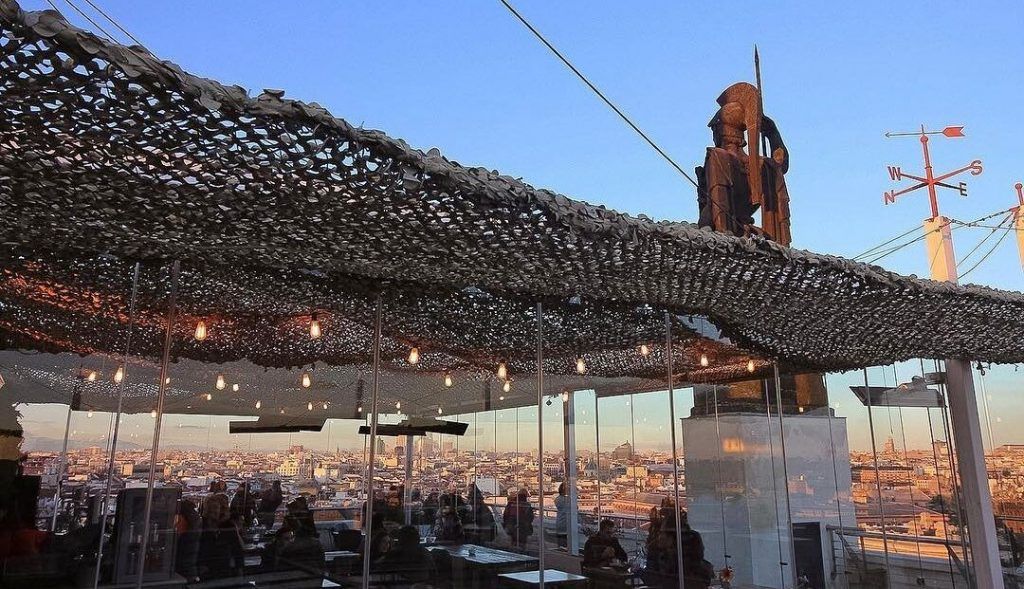 Credit: @azoteadelcirculo
5. CASA SUECIA
Let's keep the luxury rooftop ball rolling, shall we? One of Madrid's well-known NH hotels is home to a two-story rooftop bar, which boasts yet again 360º view of the city, where you can catch a glimpse of two symbolic sites: El Retiro and Cibeles (City Hall). It's a big contender for Círculo de Bellas Artes but it isn't quite as renown yet, so if you want to avoid the crowds but still be amazed, this is the place. If you get bored of cocktails you can always go to their yummy brunch in the springtime. Make sure you reserve your spot!
Credit: Facebook CasaSuecia
6. DOÑALUZ
Looking for a place to wind down and chill out to the max after a looooong day of touristy stuff? Look no further, this quirky lil' rooftop is waiting for you right by the Puerta del Sol. Grab a nice coffee and sit and read, reflect, or (our favourite) peoplewatch as you relax and take in the view! Doñaluz also has a cute restaurant if you get peckish, with a selection of international treats like tequeños, ceviches, and delicious Spanish ham.
Credit: @donaluz_madrid
7. PICALAGARTOS
This newcomer has quickly become one of the big players on the Madrid rooftop scene. Also located on the well-known and loved Gran Vía, Picalagartos is a new and hip alternative from the more classical establishments. It's atop yet another NH hotel (they're everywhere), on a very busy corner off Gran Vía and the famous Calle Montera – which takes you to Sol. Make your way up to take in the oh-so-gorgeous views while vibing to the upbeat music with your fancy cocktail in hand!
Credit: Facebook Picalagartos Madrid
8. THE MINT ROOF / HOTEL VINCCI THE MINT
As usual, we've included a little something special for our Instagram loving travelers! This is the place for the perfect Insta post! You couldn't find a more picturesque and original place if you tried. Everything is modern and designed perfectly down to the smallest detail, making it the trendiest place to be. Everything is fashionably color-coded and the bar is a Citröen food truck (yes, on a rooftop). Not to mention its menu of pure street food. Cozy, flirtatious and pleasant. SELFIEEE time!
Credit: Facebook Vincci Hoteles
9. TERRAZA CIBELES
Ah yes, how could we not include good old Cibeles? On the 6th floor of Madrid's majestic and beautiful City Hall is an elegant and cool sky bar. Offering a different view of Madrid's brilliant city skyline including the wonderful Calle Alcalá, the Plaza de Cibeles in all its glory, the Paseo de Recoletos and Paseo del Prado, this rooftop really has it going on. More than photo-worthy. Warning: it may be on the pricey side so prepare your wallet! Totally worth it for an occasional treat.
Credit: Facebook Restaurante Palacio de Cibeles
10. AZOTEA FORUS BARCELÓ
You can't really get any more hip and indie than Malasaña. It has become one of the trendiest and most fashionable neighborhoods for hipsters and tourists alike to hang out and enjoy a drink (or five) in the summer sun. The area's old Barceló Market has been completely reformed into a modern center that has the most impressive roof terrace.
It's always full to the brim of thirsty millennials, chilling out in this inviting floral oasis. Perfect for a couple of cañas and some snacks with friends (the healthy options are fab), before hitting the best bars in town until the early hours!
Credit: Azotea Forus Barceló