A trip to Madrid in October is a very sound proposal that has countless offers of all kinds: cultural, gastronomic, sports, artistic, etc. With the pleasant temperatures in the city at this time of year, you can fully appreciate all the activities. Here, we propose 5 things to do in Madrid this October:
1. SOAK UP THE CITY'S CULTURE
Ok, Madrid doesn't have a beach, but what it does have is an INTENSE cultural life with a great set of offerings for all tastes. In October the options are endless, -it seems that they wait for everyone to return from vacation to offer a complete cultural program!
Apart from the traditional museums, those to which the tourists go in droves, there are other cultural centers where something interesting always happens: Conde Duque, Matadero, La Casa Encendida, and La Tabacalera. You can also go to see exhibitions in other more alternative venues, we especially like [Es] positive and Swinton & Grant.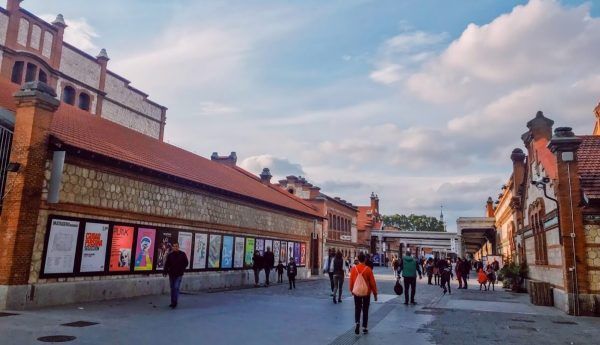 The musicals of the Gran Vía, have a very good reputation and people from all over Spain come to see one. Less fancy but very recommendable are the shows in small theatres such as La Escalera de Jacob in Lavapies or Sala Interperie in Malasaña -if your Spanish is any good! A super original format is Microteatro Por Dinero: short performances in small rooms for a very small audience.
If your passion is music, in Madrid there are several options. From the big concerts with large audiences at WeZink Center to the intimate concerts of national or international artists at Sala El Sol or Costello Club, or the recurring jazz concerts in mythical venues of this genre such as Sala Clamores or Café Central. Or you can visit the best flamenco shows in Madrid.
And for photography lovers, the event of the season is World Press Photo, the photojournalism contest that remembers what has happened in the world and also stirs our conscience. It will be held at Colegio Oficial de Arquitectos de Madrid from October 4th to November 3rd.
Nor can we forget about the cinema. Yes, we know you didn't come to Madrid to watch a movie but, in how many places can you go to an adult movie theatre and enjoy a good -not porn!- movie?? And with a drink and food! This is the offer of Sala Equis, which was until recently an adult movie theater and now it's a cultural space. At the entrance, you can still see the former ticket office with the suggestive titles of its last films!
2. GO TREASURE HUNTING IN MADRID'S MARKETS
There is life beyond El Rastro, the famous flea market, which continues to be a wonderful market to go and find bargains on Sundays and holidays. But if you're in Madrid on the second weekend of the month, do not miss Mercado de Motores. It's a market in an old train station that now functions as a railway museum. The food stalls, vintage clothing, decoration, and home/fashion accessories are located between the trains that are exposed. It's worth going just to admire the iron architecture of the station or the interior of the vehicles! October's edition falls on the 12th and 13th.
Credit: Mercado de Motores
Another market with a lot of charm is Mercado de las Ranas (frogs market), which takes place on the first Saturday of the month in the Barrio de las Letras, so make sure to visit if you're around on October 5th. You'll be supporting local shops and craft shops, but what makes this event special is that the stores take their products out, making it an open street market with a lot of good vibes. It's said that in the seventeenth century there were many frogs in the ponds of one of the neighborhood streets, hence this name…
For design lovers, we recommend looking at Mercado de Diseño that celebrates in the fall edition its 6th anniversary!. It's an independent design market where you can find clothes, footwear, jewelry, decoration, etc. If you want to support the Spanish emerging talent, this is the place to do it! There are food trucks and live music to complete the experience. This will happen on Saturday 5th and Sunday 6th at Matadero Madrid.
And if you're all into vintage or second-hand objects, don't miss the Lost & Found Market, also on October 5 and 6 at the Conde Duque Cultural Center. What can you expect from the event? 60's music, 70's fashion, 80's toys, and many hidden vintage treasures! There will also be chefs and food trucks!
3. FILL YOURSELF UP WITH TAPAS
Two magic words: Cheap tapas. Every October Madrid celebrates Tapapiés, a consecrated tapas festival in the Lavapiés district (hence its name) This 2019 edition will be held in October, 17th – 27th. The tapas tour is quite extensive, and offerings are very international. The tapas aim to reflect the cultural and ethnic plurality of this Madrilenian neighborhood, so you can find food from Algeria, Senegal, Thailand, India, Italy, Chile, Ecuador, Japan, etc. Of course, there is also space for all the regions of the Spanish geography. Each tapa costs €1.50 and for an €1 extra it can be accompanied by a bottle of Madrilenian beer.
In its first edition back in 2011, only 24 venues organized this event, but each year more and more have joined until hitting the 130 tapas, and 68 street performances in this 2019 edition! So now you know, get all the tapas you can, and go back crawling to the best hostel in the area, of course, we're talking about our Cats Hostel Madrid Sol!
Credit: Tapapiés
4. SEE (OR PRACTICE) SPORTS
If you like football and come to Madrid in October, it would be unforgivable to not stop at one of the temples of world football. During these dates, Real Madrid and Atlético de Madrid play their Champions League matches so, plan it ahead, buy your ticket and go to any of the Madrilenian stadiums to experience the Spanish football fever. But don't think that Bernabeu or Wanda Metropolitano are your only fair options, learn more in this post about Madrid's football teams. We've got the highest number of clubs in the top division of the most prestigious Spanish tournament, so you have a lot of chances to go and see a match this month!
Many people take the opportunity to participate in a race. This October we'll have a lot of fun runs, as the 10k Mercamadrid, or a race in support of the Down Syndrome Foundation in the Juan Carlos I Park, a place that is well worth a visit!
Credit: Gladiator Race Spain
5. SEE THE CHANGE OF SEASON
The same phenomenon that occurs when spring arrives, in which Instagrammers go out to capture snapshots of the newly flowered city, also occurs with the arrival of autumn, when people go out to observe how the different shades of color in the leaves. The city changes its hues, so going to the best parks in Madrid –with your camera or phone-, is always a great plan.
If you want to get off the beaten track and visit other non-touristy parks, you can go to the Quinta de Los Molinos, a quiet park at this period of the year, which even has a water mill and many trees with leaves in brown and reddish tones. You can also go to Jardines Campo del Moro, which gives you a different perspective of the Royal Palace. Admire it from the back since everyone always focuses on its main façade!
Credit: Martius en Flickr
A somewhat more unknown area to see the skyline of the city is Mirador de la Cuña Verde, located within the park under the same name ad high enough to distinguish the plants on the surface of El Retiro or have a good perspective of the high-rise buildings of the business area known as Cuatro Torres.
Another way to see the changing colors of the city is from the heights. That's why we love the viewpoints such as Palacio de Cibeles, where you can pay €2 to enjoy a very striking panoramic views, or Faro de Moncloa, an old lighting tower from where you can see the city, no matter if it's cold, rainy or stormy, as you'll do it through its huge glass windows!