We are convinced that the best Valentine's gift to give one another is to spend time together. Therefore, we bring you this list of plans to celebrate it in Madrid. It is said that it was a big chain of department stores who brought this custom to Spain to increase sales. But dear fellow travelers, just forget about meaninglessness gifts and create real experiences with your other half! Choose the plan that suits your style, there is something for every type of couple.  And the best thing about our recommendations is that they are not only valid for February 14th, but all year round!
ROMANTIC DINNER TO CELEBRATE VALENTINE'S DAY IN MADRID
This year the responsibility of choosing a place for dinner falls on you, and you are starting to freak out. Don't worry, we have your back. Who knows better than the Cats team about Madrid's nightlife? These restaurants assure love at first bite.
HABANERA: For party couples
Imagine a romantic dinner in a large room decorated in the Cuban colonial style, followed by cocktails and dancing. This site is to treat oneself: unbeatable attention, delicious food, live music, spectacular atmosphere and plants, many plants! As soon as you taste a bite of your Ropa Vieja, you will instantly be in Havana without having to get on a plane. It is one of the trendiest places in Madrid, so it could be in great demand on Valentine's. Please book in advance!
By the way, it closes during summer to update so if you are planning to go while it is still hot…bad idea.
Address: Calle Génova, 28
From the hostel: Take the metro in Tirso de Molina, change in Bilbao to line 4, and get off at Colón. The restaurant is 1-minute walk away. In total it takes about 20 minutes.
Credit: Instagram @habaneracolon
FERRETERÍA BY EGO: For an everlasting love
We haven't gone crazy… we're not suggesting to go to a hardware store on Valentine's Day in Madrid… or at least, not to a regular one! This one was the oldest hardware store in Madrid (1888), but now it is a restaurant that still preserves all the charm of yesteryear, as well as  the original furniture and cabinets. To celebrate a love story that persists! Here you will find Spanish traditional cuisine and probably the best jamón serrano in the world. Did you know that the same ham leg can produce up to 40 different flavors? It's the kind of thing you can learn from their great waiters!
Address: Calle de Atocha, 57
From the hostel: It's 5 minutes on foot, it couldn't be easier! It is next to the Anton Martin metro station, check out its beautiful sign, it's the original!
Credit: @ferreteria_byego
THE CAMOATÍ: For meat lovers
You will be celebrating Valentine's Day in Madrid, but this hidden place will make you feel right in Argentina. The staff have a great vibe, the atmosphere is romantic but casual, perfect for non-cheesy couples! Also, for those couples who like to share food, the portions are generous! On Thursday, they usually have dinner with tango at 8.00 pm!!
Address: Calle Alfonso VI, 3
From the hostel: You can easily walk to La Latina. It's only 13 minutes!
Credit: elcamoati.es
AZOTEA DEL CÍRCULO AT CÍRCULO DE BELLAS ARTES: For a higher love
It's one of the best-known rooftops in Madrid if you needed another excuse to go! But book in advance because dining with the city lit at your feet is one of the favorite plans for couples! Well, we guess you're not going to feed yourself only with beautiful views, but maybe also their tuna tartare, stuffed artichokes, roasted grouper or the veal fricando will.
Address: Calle de Caracas, 21
From the hostel: It's only 11 on foot, cross Santa Ana square and get to Calle Alcalá.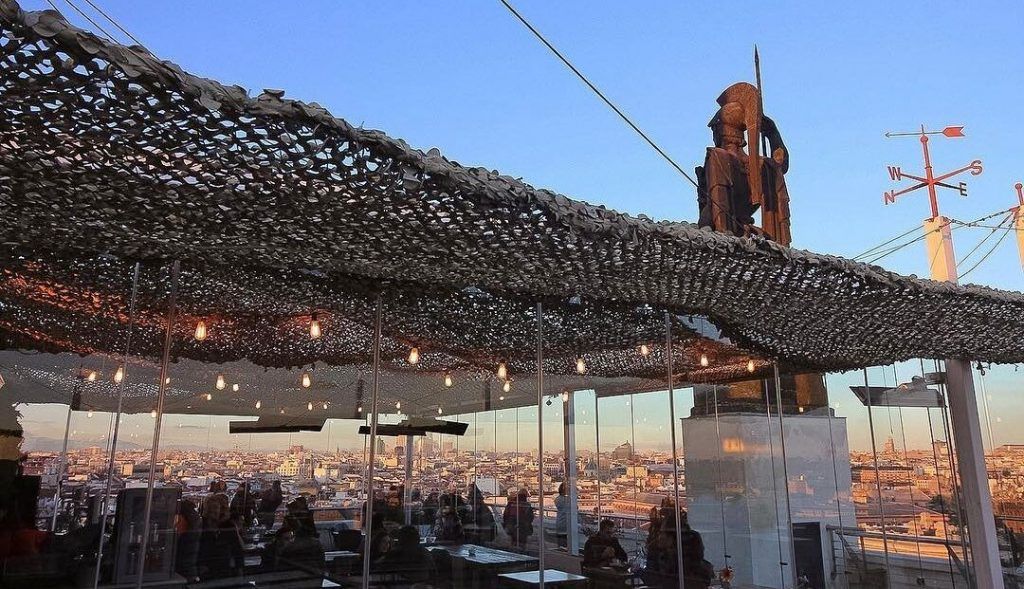 Credit:  Grupo Azotea
FELLINA: For a Lady and the Tramp spaghetti moment
Italy has some of the most romantic cities in Europe, and for some reason, when we picture a romantic dinner, we picture Italian restaurants! This spot is good, attractive, and affordable, what else could you possibly ask for? Imagine the recipes made by an authentic Italian nonna, but in the most romantic atmosphere, -candles included. Your partner will be pleased! And after a delicious dinner, you can visit the clandestine club in the basement. Ready per innamorarsi?
Address: Calle de Caracas, 21
From the hostel: Take the metro at Tirso de Molina and get off at Iglesia. From there just walk 8 minutes. In total it takes about 23 minutes.
Credit: fellinamadrid.com
BARS AND COFFEE PLACES TO ENJOY WITH SOMEONE SPECIAL
Okay, romantic dinners aren't your thing. You are a day person, you show your love on the streets in broad daylight. Or you simply don't feel like spending a fortune on Valentine's plan. These plans here are somewhat more relaxed, but no less special!
GASTROBARES BY SALVADOR BACHILLER: To give a pleasant surprise
It's difficult not to hit with the gastrobares of Salvador Bachiller. Perfect for both day and night dates. Come and get breakfast in an English-style tea room with velvet sofas, or a cocktail in a tropical lounge surrounded by plants, any of these plans are perfect for Valentines in Madrid! In its three bars, the decoration is taken care of down to the slightest detail. Although this is expected… as you are inside a decoration store! No kidding. Speakeasy style. Surely your partner will not expect it!
Address: Calle Montera, 37
From the hostel: The SB Garden is the closest, you just have to walk to Sol and then, Montera street. It takes about 12 minutes.
Credit: Instagram @salvadorbachiller
SALON DES FLEURS: To say it with flowers
If we had to define this "flower room" with just one word, we could not choose. Cute? Elegant? Quiet? Romantic? All of them! Here you can have tea and share a delicious cake surrounded by flowers. Perfect for the most classic couples, those who appreciate a large bouquet of roses on the most romantic day of the year. The atmosphere is relaxed and pleasant. A haven of peace in the chaotic Madrid.
Address: Calle de Guzmán el Bueno, 106
From the hostel: Take the metro in Tirso de Molina to Cuatro Caminos. From there you will have to walk 13 minutes, but in total it will only take about 30 minutes.
Credit: Instagram @salondesfleurs
BAR YAMBALA: To get as exotic as you want
What we like about this bar is that it represents current Madrid. The city is multicultural, and so is this place! The bar is inspired by Arab, African, Latin, and European cultures. Here you will feel at home, or even better! Because we are sure that you don't usually sit on cushions or smoke-flavored water pipes at home. Intimate atmosphere, colored fabrics, and plants. Their offer also includes coffees, cocktails and various flavored teas, so that the experience is as exotic as you want it to be!
Address: Calle de Coloreros, 4
From the hostel: You can go on foot. Just walk through Atocha St. to Plaza de la Provincia, cross the Plaza Mayor and you will face the street. It takes about 11 minutes.
Credit: Facebook @bar-yambala
CAFÉ CENTRAL: For music lovers
It's one of Madrid's most acclaimed jazz venues and that's why it entered our selection of live music bars in Madrid. If you want to enjoy the concert on February 14th, -with or without dinner- Joshua Edelman and Edith Salazar will perform on Valentine's Day. The show combines jazz, bolero, and Brazilian music. If this day doesn't suit you, they also perform on the 13th, 15th and 16th. Booking is advisable.
Address: Plaza del Ángel, 10
From the hostel: Literally… two minutes from the hostel!
Credit: Facebook cafecentral.madrid
UNUSUAL PLACES TO TAKE YOUR TRUE LOVE ON VALENTINE'S DAY IN MADRID 2024
We truly believe Valentine's day is about love and not about consumerism. No expensive gifts, just time together. But if you don't want to spend money while spending time together… well, these are our recommendations for free things to do in Madrid.
EL CAPRICHO PARK: To go away from the busy city center
Visitors usually forget about it because it's far from the city center, but we strongly recommend it as it's one of the most beautiful and romantic parks in Madrid! These gardens have everything you can expect from an eighteenth-century garden: sculptures, shrines, chapels, fountains, squares, etc. And it is divided into three zones: French garden, English landscape, and Italian giardino. So, no one can say you are not a true world traveler!
Address: Paseo Alameda de Osuna, 25
From the hostel: Go to La Latina and take line 5 to El Capricho stop there. It is very well indicated. In total it's about 50 minutes. Please note: Only open on Sat, Sun, and public holidays.
Credit: Wikimedia
PALACIO DEL PRÍNCIPE DE ANGLONA GARDENS: To kiss someone secretly
La Latina is a popular area to eat and drink in Madrid, but many locals haven't been here or heard about it. And that is because the garden is "hidden" behind a door. But please, be a curious traveler, and go inside! Walk the small garden as Prince of Anglona did himself. Maybe don't dress up like how people used to back in the day, but hey, this is a very instagrammable spot! It could be the perfect occasion to retake your happy couple pictures!
Address: Plaza de la Paja, 6
From the hostel: It's only 11 minutes walking towards the Latina, or more if you decide to stop for a beer on your way!
DALIEDA DE SAN FRANCISCO: To enjoy a sunset without crowds of people
It is a botanical garden specializing in dahlias and one of the most unknown lookouts of Madrid. Many who walk through La Latina will notice the great and imposing Basilica of San Francisco El Grande, but what they may not know is that right next to it, there is a garden with more than 50 varieties of dahlias. And although they reach their peak in June and September, the park is open all year round. A quiet place at sunset time, to admire the beauty of Madrid or the beauty of your soul mate!
Address: Gran Vía de San Francisco Avenue, 29
From the hostel: It takes about 15 minutes walking. After Plaza de la Latina continue straight until you see the Basilica in front of you. The park is on your left.
DEBOD TEMPLE: To prepare a picnic
Of course, we couldn't ignore one of the best Madrid's attractions! What is so special about this place that it attracts so many couples? Is it its Egyptian temple? Its incredible views of Madrid? The story behind it? The colors at the sunset time? Or the special people to share the moment with? If are lucky to have someone, surprise her/him with a picnic prepared by you. You, your date, and the temple. This plan is foolproof.
Address: Calle Ferraz, 1
From the hostel: Take the metro in Lavapiés to Ventura Rodríguez, walk downhill towards the Parque del Oeste, and you will face it! It takes about 25 minutes.
Credit: Wikipedia
ALTERNATIVE PLANS FOR VALENTINES DAY IN MADRID
Before someone mentions it… yes, we know that going out to dinner or having a drink is nothing special for Valentine's. You can do that at any time of the year. And that's why we also thought about these other alternative plans, so you can celebrate love in a different and original way!
ARAB HAMMAM AL ANDALUS: To restore body and soul
The water journey of these Arab baths is a romantic plan which will surprise your partner, no doubt! Visiting the Spanish capital can be exhausting, walking everywhere on foot, partying till late… you deserve a relaxing experience as well. A 20-minute massage is included in the regular circuit and we can't describe it in words, you need to come and experience it! There are different promos on their website so, take advantage and book now for Valentine's Day.
Address: Calle de Atocha, 14
From the hostel: Go up to Atocha Street and turn left. It's a 5-minute walk!
Credit: @hammamalandalus
LARA THEATRE: To indulge your personal Romeo or Juliet
Call us old-fashioned, but we truly believe that a theatre night is a romantic plan if ever was one. And if you take your partner the one of the most beautiful theaters in Madrid, you will leave him/her speechless. We really like Teatro Lara and its classical atmosphere taking you back to the 19th century. They show not only theatrical performances but concerts of local and international artists. Their dramatized visits are also worth watching!
Address: Calle Corredera Baja de San Pablo 15
From the hostel: By metro it's about 18 minutes, taking line 3 from Lavapiés and getting off at Callao. But on foot maybe it's even less!
Credit: teatrolara.com
LIBROS PARA UN MUNDO MEJOR BOOKSTORE: To say it with words
It was probably Hollywood who made up our minds, that for us, bookstores are some of the most romantic places. What if you choose a book for your date, and your date chooses one book for you? If this doesn't work, then you can try to book… a dinner. No, seriously. We think this plan is very romantic!! And they have a selection of books at €1 outside, so it is impossible not to stop to browse. Will you end up choosing one of the greatest love stories?
Address: Calle del Espíritu Santo, 13
From the hostel: Take the metro in Tirso de Molina and get off at Tribunal. It will take about 16 minutes if you do not stop to look at the always tempting shop windows of Malasaña.
Credit: Facebook @LibreriaLibrosParaUnMundoMejor
WIND TUNNEL: For the ones who believe that love gives you wings
If you and your partner are the adventurous types and you don't like romantic plans .. this plan is just perfect for you. It's about getting into the largest wind tunnel in Spain, at Hurricane Factory Madrid and finding out what's like to fly your body in the air. In this glass flight chamber, the air flows at a speed of up to 270 km/hour. Don't worry you'll be safe and under the constant supervision Your partner will love you or hate you… wanna give it a test?
Address: Calle Mondragón, S/N
From the hostel: 45 minutes in public transport. One of the best combinations is taking the metro in Latina (L5) to Aluche and change there to bus 483 or 487
Credit: Instagram @hurricanefactorymadrid
MADRID CABLE CAR: To remember that love is up in the air
Ok, maybe you think that getting on a cable car is not romantic, but some excitement is in the feeling of being 40 meters above the ground! At least, you will enjoy some unbeatable views of Madrid. The plan is completed with a visit to the rose garden of the Parque del Oeste, very close by. A unique corner, with 500 varieties of roses. The best time to visit is spring, obviously. But it has flowers all year round!
Address: Paseo Pintor Rosales, s/n
From the hostel: Take the metro in Lavapiés to Ventura Rodríguez, walk downhill towards the Parque del Oeste, you will face it! In total about 25 minutes.
Credit: Wikimedia
ACCOMMODATION FOR COUPLES
It's 2024 already and there are still people who think hostels are not for couples. Come on, if you want your private double room with its own bathroom you don´t need to spend your money on a hotel! It has been a long time since Cats Hostels started offering spaces for couples, so they could feel comfortable while traveling. Also, we do our best to help singles find a partner!
We often get real stories of people who have met at one of our party nights and who are still together after several years! We've also witnessed a couple of weddings… will yours be the next great love story?