We take photographs to teleport to certain places and moments. And the same goes for the souvenirs we take home after a trip. When we see, dress or eat, what we buy in another city or country, makes us remember it again, feel it, and miss it. These are the best and most original souvenirs from Madrid, ideas for gifts, or to treat yourself!
SAFFRON
Saffron is one of the essential condiments that give that delicious flavor to a paella. If you want to try to replicate that flavor once you return home, and evoke the memory of your Madrilenian sunsets, get yourself a saffron pot. Compared to other countries, it's cheaper in Spain!
The gourmet travelers will love La Melguiza (calle Santiago, 12) where they innovate the use of this product by adding it to chocolate, marmalade or candies. The perfect gift for those kitchen-crazy' friends that we all have.
ALPARGATAS (ESPADRILLES)
Alpargatas are very popular summer shoes for men and women. Don't be surprised to find a lot of people queuing outside Casa Hernánz, (calle Toledo, 18) one of the top Madrid's attractions. Casa Hernánz is a familiar and traditional store that has been making espadrilles since 1845 with natural products and in more than 50 different colors.
As you well know, the franchises are killing the small local shops… and what better way to support the hand-made local product than buying this authentic, original and comfortable made-in-Spain souvenir?
OLIVE OIL
Many people do not know, but Spain is the leading producer of olive oil, surpassing other countries such as Greece or Italy. If you love someone, don't buy this person a t-shirt from Madrid… take him/her a bottle of oil!
La Chinata Sol (calle Mayor, 44) is a store specializing in products made with oil. The staff is expert in the product and will be very happy to give you advice, the problem is that you will have a hard time choosing between, truffle oil, boletus, extra virgin… We can almost see you already back home eating a toast with oil, tomato, and salt, picturing yourself back in Spain! They also have other gourmet and cosmetic products.
VIOLET CANDY
These handmade caramels are violet-shaped, taste like violet essence and, of course, in violet color. If you see those transparent boxes with candies in the shop window of some of the city center stores, it is because they are typical of Madrid.
In Plaza de Canalejas, 6 you can go and buy them from La Violeta (it could not be otherwise), a store founded in 1915. It is said that King Alfonso XIII bought these violets for his wife and his lover. Buy them for whoever you want, the locals do not judge!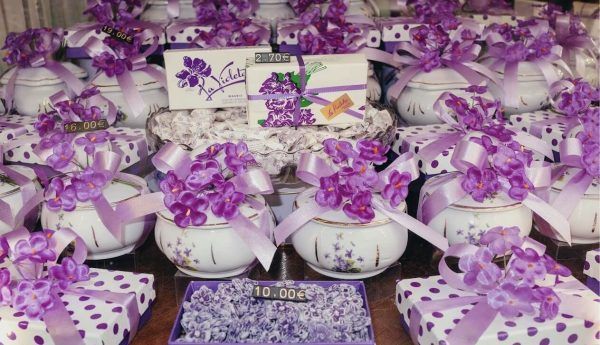 CERAMICS
Ceramic is present in almost all houses (and tourist shops) in Spain. Crockery, fruit bowls, cups, bowls, everything has its ceramic version! If you want to take a handmade souvenir of good quality, you are in luck because the beautiful store Arte Hoy (calle Cabeza, 26) is super close to both Cats Hostels!
If you are staying for several days in the capital, we have a different suggestion: Paint your own piece of pottery! Go to Pinta en Copas (calle Velarde, 3), choose a piece -there are more than 100 models!-, and paint it following their advice and techniques while you have a coffee, tea or soda. You will have to pick it up after a couple of days (from 1 to 4 depending on the demand) after it has been baked and the colors have been fixed.
FANS
Fans have been traditionally associated with older ladies, (or with high nobility) but it's 2023 and fans are really cool. Not only flamenco dancers use it here, but also young people. Oh, when temperatures rise… you better get yourself one! Come to Madrid on a hot summer day and test yourself.
There are of all sizes, colors, and shapes. And there are some precious ones. Whether you're looking for flowers, lace, or hand-painted, you'll find it in Madrid! These fans can cost from 2 to 20 euros depending on their quality, but it is indeed a souvenir for all budgets!
WINE
The good thing about Spanish wines is that you can get quality without spending a lot of money. In the supermarkets, there are wines for €5 that are surprisingly good! But what better experience than visiting a local market and getting it from there!
Mercado de San Fernando (calle de Embajadores, 41) is very close to the hostel, and has a few options and the bar/shop Bendito (that means "blessed", but the wine might not be blessed!). Is a tiny paradise with a selection of different wines. You can buy or make a tasting there (they sell by the glass). Oh, and if you are a nostalgic one, music is played on vinyl!
BOOKS, PRINTS, AND POSTCARDS
Who does not like to collect travel postcards? The postcards from Madrid al Cubo (calle de la Cruz, 35) have nothing to do with the prints that you find at the Gran Via kiosks, which seems to have been made in mass production in China.
Their prints and drawings from Madrid are also the perfect gifts for those people who generally hate classic souvenirs. And if you like books, you'll find difficult to choose just one! Illustrated, water-colored, about squares in Madrid, or its parks, or its history, books for children… there is something for you for sure!
FLAMENCAS
Flamenco is an internationally recognized art and as you know, it is part of Spanish culture (We recommend you to visit some flamenco show Madrid). For that reason, flamenco dolls are one of the best-selling souvenirs of Madrid. But… who said that the dolls are just for kids? Set up your own Spanish "altar" at home and include a kitsch flamenca on it. Listen to your inner hipster and buy that polka-dots-dressed doll. Olé!!
MORE STORES FOR ORIGINAL SOUVENIRS OF MADRID
If nothing of the above mentioned convinces you, here we give you other options of gift shops that promise to be as unique as what you are looking for!
La Integral (calle del León, 25)
Retro objects and curious gifts in a shop that preserves its façade from the beginning of the 20th century (when it was a candy store). Here you can buy, for example, a change purse with the face of Lola Flores (an iconic Spanish artist), t-shirts with phrases from the Spanish imagination, or rulers with the silhouette of the map of Spain, as well as all kinds of decorative objects by Spanish designers.
Curiosité (calle Corredera Alta de San Pablo, 28)
Curiosities, original gifts, and rare but beautiful things. In this store, they have practically all the gadgets, objects and textiles that one uses daily, but designed in a way that is not boring! We mean, they have the socks, USB drives, and coasters that you actually would be proud of giving as a gift.
Amor de Barrio (calle de San Andrés, 12)
Love your barrio! Or to be more precisely, love Malasaña! If you want to take a bit of this neighborhood with you, you have to go to this little shop. It is the reinvention of the souvenir, from the flamenca-male magnet with hairy legs to the tote bags and t-shirts with the quotes and sayings from Madrid. These souvenirs 'molan mazo'! (that means "are very cool")