One of the trendiest shows of the season, Valeria, has managed to capture the real essence of Madrid. The Netflix film adaptation of Elísabet Benavent's novels shows us the city we miss! A city in a pre-pandemic world with busy squares and a vivid nightlight. We're slowly taking back our streets and Valeria gives us some ideas to enjoy the city again!
The plot revolves around the personal crisis of Valeria, a thirty-year-old writer who faces an uncertain future job and a distant marriage. The problems, joys, and dreams of her three best friends, Carmen, Lola, and Nerea, go with her along the way.
Beyond the story of these four girls, their outfits always on point, or the great soundtrack, Cats team is clear about what is best in the show: the filming locations. The city of Madrid is one more character! In each of the scenes, we discover corners and situations that represent the hustle and bustle of urban life with great success.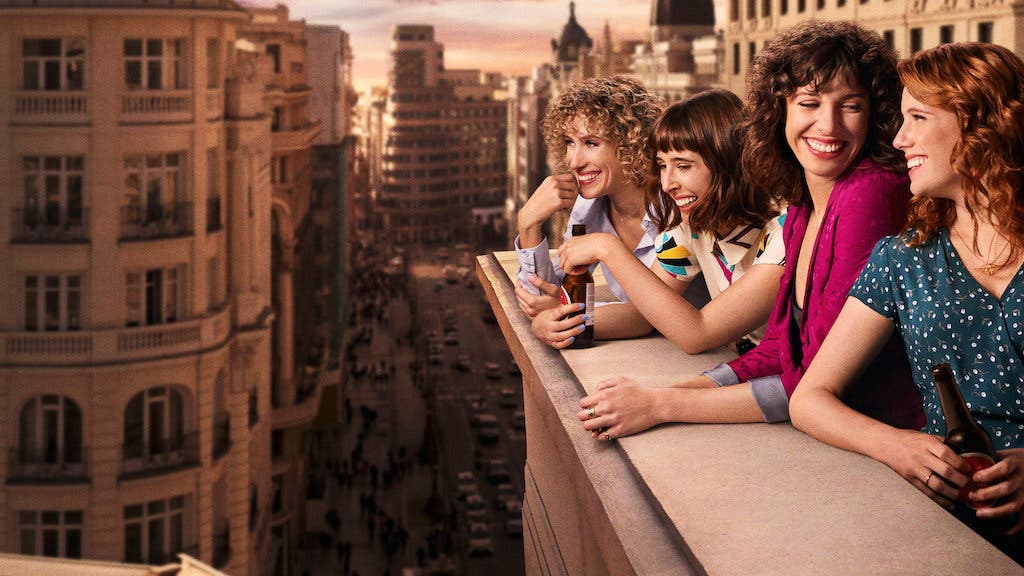 Credit: Netflix
Let's guide you around the places of the show in order of appearance so that it is easier for you to locate them. Warning: do not read this article without having seen the show, as it is full of references to history. Don't say we didn't warn you!
CHUECA, LA LATINA AND MALASAÑA (EPISODE 1)
Let's place our girls. Valeria lives on Calle San Gregorio in Chueca, a small neighborhood but busy during day and night, full of bars, restaurants, and shops.
Carmen works in an advertising agency with panoramic views of the center of Madrid, that many of us dream about! The offices were recreated in the building at number 30 on Gran Vía.
We also see Lola's apartment and although the exterior is not yet visible, we know that it is very close to Valeria's, in the Plaza de las Salesas. Nerea is the one who lives furthest away, that's why we see her on the train that connects the Madrid metropolitan area with the center.
Later, the four friends are in one of the best-known bars in La Latina, El Viajero, (Plaza de la Cebada, 11). The local has three well-differentiated spaces. A street-level restaurant with a terrace, a bar on the first floor for informal meetings, and a magnificent rooftop terrace on the top floor with many plants and views of the neighborhood.
Back home, Valeria and Lola go up Calle Preciados towards Callao. It is a commercial street busy at any time. Long after the closing time of stores and malls, passers-by continue to walk it up and down as our girls do.
The next day Valeria is worried about the state of her bank account and walks through the Plaza de Los Carros, and she sits at the fountain in the middle. This is one of the best-known squares in the La Latina neighborhood, at the beginning of a very busy pedestrian area on weekends, with groups of friends who go out for drinks and tapas.
At night, Lola invites the girls to a party, in which we see Victor for the first time. It was recorded inside Lucky Dragon (Calle Estrella, 3), a place that takes you on a direct trip to China thanks to its decoration: lanterns, murals from the Mandarin Empire, and even pagoda roofs. Every detail is worth mentioning, the bar simulates a Chinese restaurant or the DJ booth a street food stall!
Credit: Instagram @luckydragon_
On the way back home, Valeria walks with Víctor along the unmistakable Gran Vía towards Banco de España. It's the most famous street in Madrid, full of cinemas, theaters, restaurants, and shops. And it represents the Madrid that never sleeps: no matter if it's midnight or 3:00 am, there will always people walking
Then, we see Valeria get into a taxi (with incident included), and this happens in Plaza de Isabel II, in front of the Teatro Real, which we see in the background in this scene. This is the opera building, which currently houses large international productions. You can take guided tours to see its magnificent lounges, lobby and the views from the balcony.
SQUARES AND PARKS (EPISODE 2)
Lola meets Sergio in the well-known Plaza de Oriente. The large, large building behind them is the Royal Palace, one of the capital's most visited attractions. The scene is portrayed with street musicians and some tourists and is quite true to reality. It's a busy place and not too suitable for… such a hot encounter! 😉 But if you are looking for a place for a romantic walk, this area will not disappoint.
Valeria is working on her novel at Frida café-restaurant, (San Gregorio, 8), a cosmopolitan place that is right in front of the doorway of her house. Maybe that's why it's almost like her office. In this episode, we see the venue twice: when the four friends meet on its picturesque terrace to read a draft of the novel, and when Nerea helps Valeria look at the contract so that she can take it to his editorial. What is not seen in the show: it's a great place to have brunch or exquisite international dishes.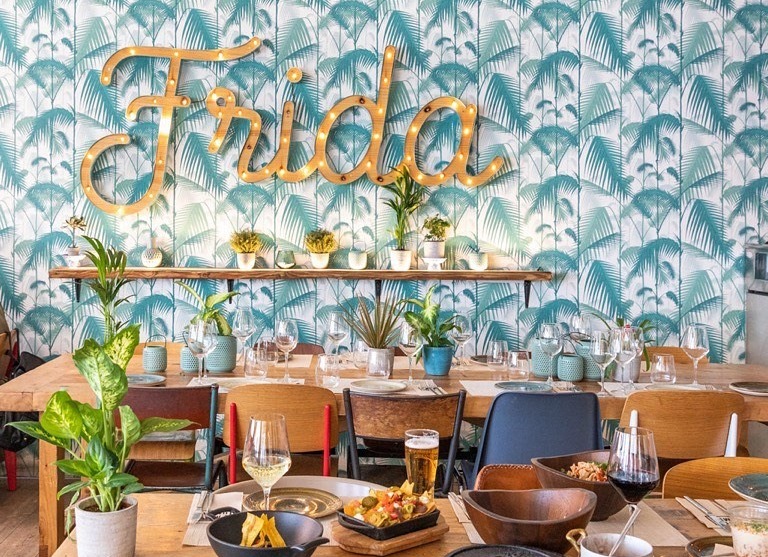 Credit: Facebook Restaurante Frida
Valeria goes to Parque del Oeste to calm down after the bad news from her editor, and here is where she compulsively read the messages in the tea boxes. This is one of the best parks in Madrid, and has such unique places as the Cable Car, the Rose Garden or the Debod temple.
Lola, Carmen, and Nerea have a pedicure at a Be Boo beauty salon (Plaza de Pedro Zerolo, 1) in Chueca, and then we see them go up Gonzalo de Córdoba street until they reach Plaza Olavide. It's one of the most famous squares in the Chamberí neighborhood. Full of bars and restaurants with coveted terraces. Here Lola says goodbye to the girls because she has a date with Sergio. Then, at night, we see her go down this street again. We recognize the facade of the corner store, Vino & Compañía (Plaza de Olavide, 5) where she stops to look at her phone. If you're interested in wine tasting with pairing, take a look at this place!
Finally, she meets Sergio at Teatros Luchana entrance (Calle de Luchana, 38) very close to there. The space that used to be former cinemas is now a multi-room theater with a wide range of shows. When the scene continues and Lola opens her umbrella, maybe you were curious about Marta Cariño's neon sign. It's the modern bar-restaurant of the theater, where you can have a drink before or after the performances.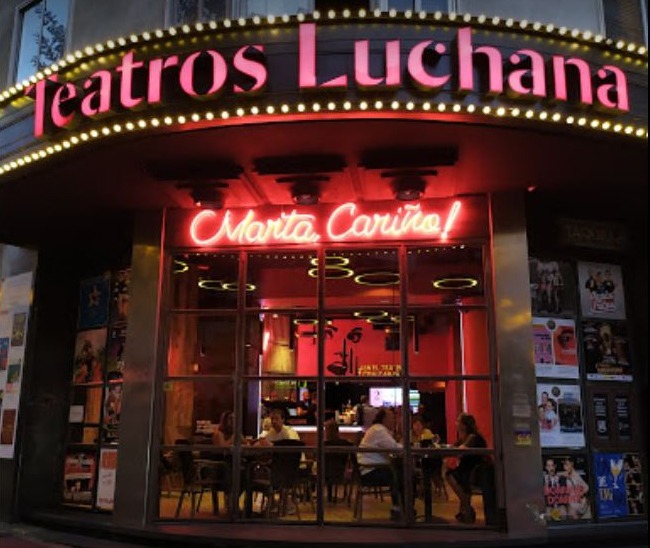 Credit: Teatros Luchana
BARS AND RESTAURANTS (EPISODE 3)
If you want to see the museum where Valeria works, we're sorry to say that it doesn't exist! The interior corresponds to a convention center in Ávila, and the exterior was a setting by the Madrid business area.
The heat tightens in summer, and we see Carmen walking, fan in hand, and Valeria, with an ice cream. We glimpse the Segovia viaduct in the background and that's why we know that they stop at the corner of Café del Monaguillo (Plaza de la Cruz Verde, 3) to cool off with the air conditioning. Although they don't get to enter, this place is an intimate cafe to have a drink surrounded by books. It's decorated with a real library!
A few steps from there, and up a cobbled staircase (a detour to the left of Calle Segovia) is the terrace where our girls have some beers in the company of two other new characters. It's that scene where Nerea hears about the feminist association in which she will end up collaborating. Everything happens on the terrace of Korgui (calle del Rollo, 8) a restaurant overlooking the Segovia viaduct. It's a less busy street in La Latina, because it's more hidden and therefore, has a more intimate atmosphere. A perfect place for a heated summer night like the one portrayed in the show!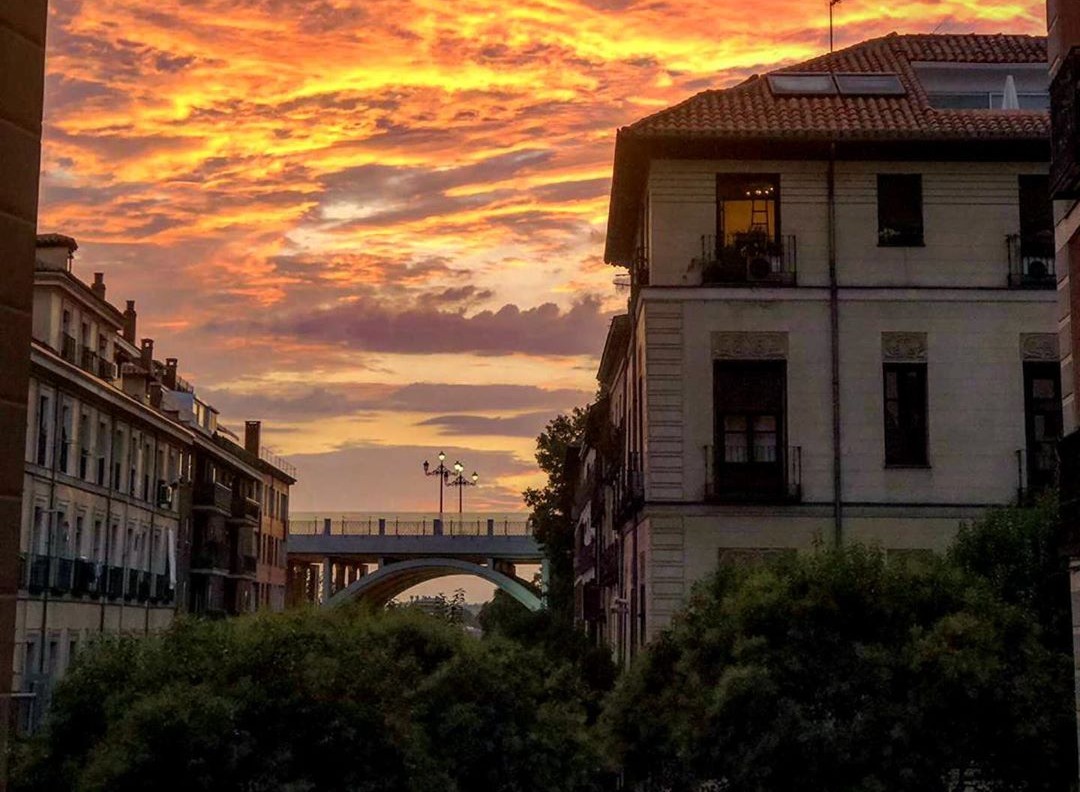 Credit: Instagram @korgui
Valeria runs away because she's late for a dinner with Adrián and some friends, in the sophisticated neighborhood of Salamanca. They meet at Flavia (Calle Gil de Santivañes, 2), an elegant trattoria very close to Puerta de Alcalá. In the scene, you can see the cool decoration of the place, but what we don't see are its delicious wood-fired pizzas, fresh pasta, and cocktails.
By the way, the museum with the exhibition of the phones to which Victor and Valeria go, does not exist, but in real life, this could have happened at Matadero, or CaixaForum or in the Conde Duque Cultural Center, where some of the coolest exhibitions in the capital take place, in case you want to take note!
At the end of the episode, we see Adrián walking home through the streets of Chueca and passing just in front of the Taberna El Economato (calle de Belén, 5). A must go to for vermouth or a
Spanish tapas.
TOP VINTAGE SHOPS (EPISODE 4)
It was about time to go shopping in Madrid! What better excuse than a home party? We see first Nerea with Carmen, and then, Valeria and Adrián, who meet Lola and Víctor. The scenes were filmed in Vintalogy (calle Atocha, 10), a store specialized in vintage clothing and second-hand clothing. They also have furniture and accessories. And even if you're not going to buy anything, it's worth making a visit and seeing the aesthetics and posters of another era! In addition to this store, Vintalogy has 3 others in the capital: in Huertas, Chueca, and Malasaña.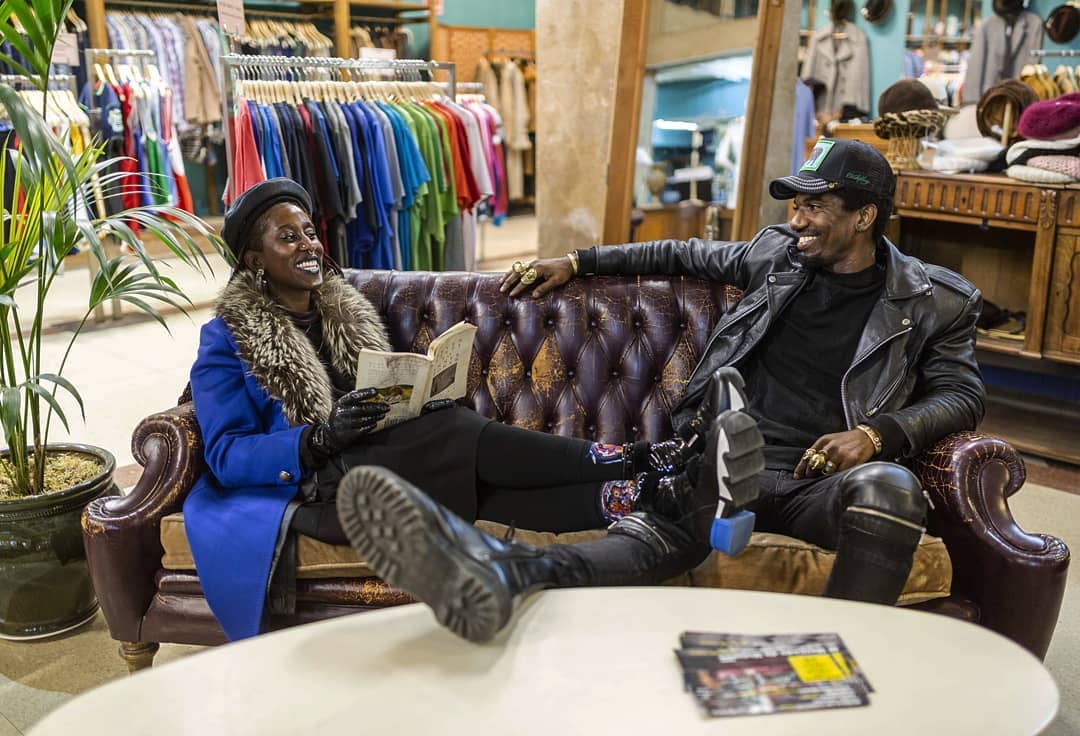 Credit: Vintalogy Madrid
Nerea decides to get out of the party and go find her new friends, who are at La Noche Club (Calle de Segovia, 19). In real life, this bar is a small place with varied music, a good atmosphere, and a thirty-something crowd. Its pleasant treatment makes it one of the favorite places for private celebrations.
Let's skip episode 5, where Valeria decides to take a spontaneous trip to visit her parents in Valencia. But don't look for that beach and the beach club in Valencia. These scenes were recorded in Platja Llarga, in Salou (Tarragona).
MADRID SUMMER PARTIES (EPISODE 6)
The first fortnight of August is very busy in central Madrid, with celebration after celebration. We start with the San Cayetano festivities, in the Rastro/Embajadores area, we continue with the San Lorenzo festivities in Lavapiés, and we finish with the largest and most important, fiestas de La Paloma in La Latina.
We see Carmen and Lola in what appears to be a verbena, and we appreciate the Segovia viaduct in the background. This scene was recorded on the exteriors of Terraza Collins (Calle de los Caños Viejos, 3). A cocktail bar with an enviable location and a Victorian garden, to have a drink surrounded by green.
Valeria and Víctor meet at Bodegas Lo Máximo (Calle San Carlos, 6), an emblematic venue in Lavapiés neighborhood, known for its bolero nights and for being a favorite for vermouth time.
Surely you loved the outdoor scene with a street decorated with garlands of Manila shawls. That's how colorful the neighborhood looks during the holiday season. And yes, the bars are also taken outside, in order to attend to the large number of visitors who dance, sing and toast on the street!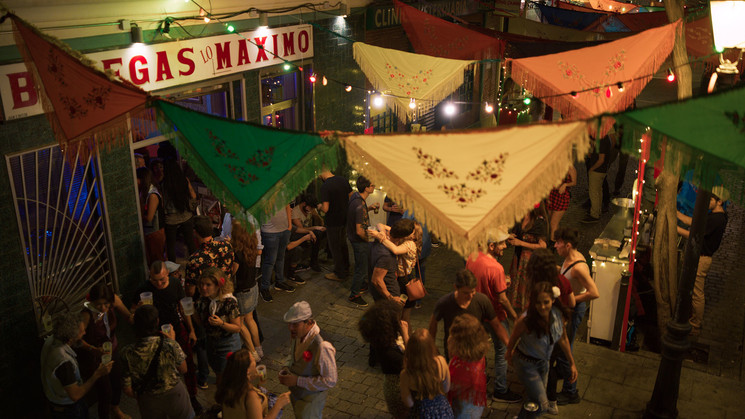 Credit: Netflix
SPOTS TO FALL IN LOVE (EPISODE 8)
The last episode of the season narrates the beginnings of the relationship between Valeria and Adrián with a series of flashbacks. Valeria and Lola sneak into a private party that takes place on the Bocanegra terrace (Marqués de Riera street, 1), where Adrián is working as a photographer. It's in this unique garden where one of the trendiest terraces in the center of Madrid, Casa Corona, is set up in summer. You can also go in winter and enjoy its glazed terrace.
At night, we see the couple sitting on the hood of the car admiring incredible views of Madrid and the Cuatro Torres. This 'La La Land moment' was filmed in a small hill in Las Tablas, near the M30, almost reaching the A1.
We continue with another flashback that places the couple in an illuminated Temple of Debod (Calle de Ferraz, 1). This monument is an Egyptian temple from the 2nd century BC, a gift from the Government of Egypt to the Spanish during the construction of the Aswan dam. No wonder why in this romantic they talk about getting married!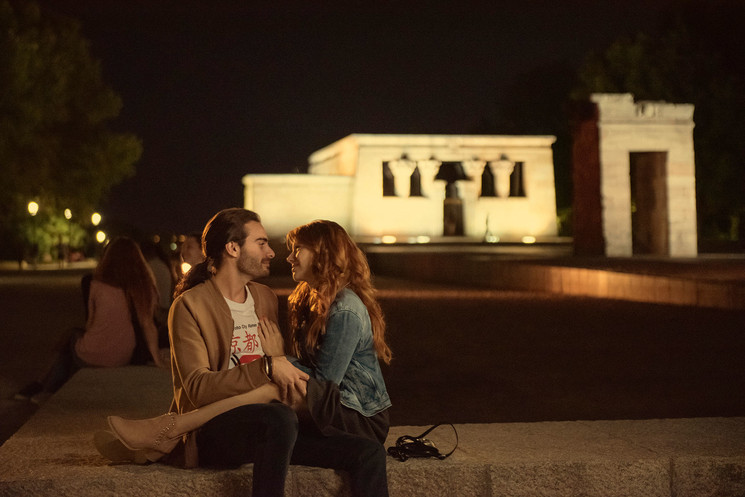 Credit: Netflix
Back to the present, the four friends meet at the almost clandestine Hemingway Cocktail Bar (Calle del Marqués de Casa Riera, 4). A place inspired by the Dry Law of the 50s, with an exquisite decoration with red velvet sofas and leopard rugs. And obviously, cocktails.
We see Parque del Oeste again in this episode, where Lola goes running and sees Sergio with his new lover. The are in a viewing area very close to the Temple of Debod actually, with good views to the south of Madrid. After this, she meets him on a terrace surrounded by tall office buildings. It was filmed outside the Moda Shopping Mall (Avda. Del General Perón, 40), and although this was recreated for the show, in this area there are other popular terraces for an after-work drink.
We see Valeria and Víctor speaking for the last time at the multidisciplinary venue Sala Equis (Calle del Duque de Alba, 4). They sit in an old armchair patio that now serves as a bar, restaurant, acoustic concert stage, or a meeting point for directors/actors and public. Despite the fact that there is a large projector with black and white films in this same room, current films are projected in a separate cinema on the top floor.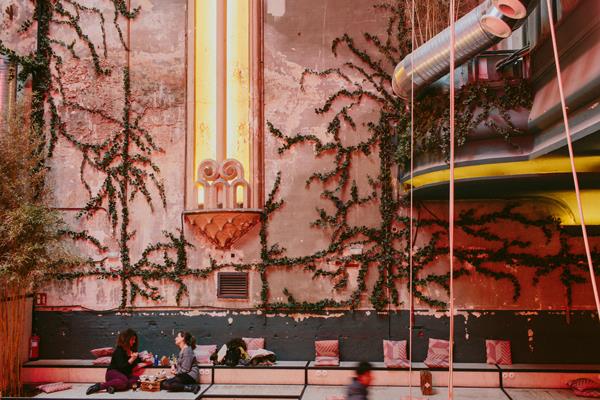 Credit: Facebook Salaequis
And these are the most significant locations in Madrid that Valeria's first season. A show that we really enjoyed while being lockdown at home and dreaming about taking back the streets. We know, we'll visit all of these places as soon as we can! And we hope that Netflix offers us a second season with new locations to rediscover Madrid and celebrate friendship!