Sweet or salty. Quickly or without a rush. The art of breakfast in Spain varies according to the region where you are, however, most Spaniards agree on one thing: they don't skip the first meal of the day.
A study on breakfast consumption habits by the Spanish Ministry of Agriculture, Fisheries and Food, says that 94.4% of Spaniards have breakfast at home on average 6 times a week.
And what about the Spaniards who do not have breakfast? The most common reason is that they are not hungry when getting up. Only a quarter of them says it's due to waking up too late! Which makes all the sense in the world because the Spaniards also go to bed late…
WHAT IS THE BREAKFAST TIME FOR SPANIARDS?
Well, excluding those few Spaniards who wake up at a time more appropriate for vermouth than for an orange juice, the typical Spanish breakfast time is between 7 and 8:30 in the morning. Of course, this changes a little on weekends, since most Spaniards have breakfast between 8:30 and 10:30. In general, there are coffee shops that serve breakfast until 11:00 and large chains offer it until 1:00 p.m., but this is usually a "second breakfast" since many have already had a coffee at home before leaving!
The average time spent in breakfast at home is between 5 and 10 minutes. In some regions such as Andalusia and Catalonia, breakfast is a little longer (between 10 and 20 minutes) but in others like Murcia and Aragon it only lasts 5 minutes.
WHAT IS A TYPICAL SPANISH BREAKFAST? BREAKFAST FOODS AND DRINKS
Spain is a very caffeinated country at breakfast time. In fact, 22% of Spaniards only have a cup of coffee before leaving home. It's the most popular drink to accompany breakfast, especially in Madrid, Andalusia, Asturias, the Balearic Islands, Cantabria, Catalonia, Valencia, Extremadura, Murcia, and the Basque Country. Although it can be taken in many ways, coffee with milk is the favorite by a landslide.
Pastries and processed baked goods
Spain is one of the few countries in the world that start the day with sweet foods, or with what for other countries consider dessert. But in this country, historically sweet has always been more popular than other healthier foods. Four out of five consumers eat sugary products instead of savory ones.
Churros with hot chocolate
Yes, churros in the morning, churros in the afternoon, churros at night (if not, the famous Chocolatería San Ginés wouldn't be open 24 hours!). Like breakfast, it's most common on Sundays, but it's usual to see some Madrilenian eating churros in the morning during the week as well, when they decide to have breakfast outside, and end up in a typical Spanish cafe that has churros trays at the bar.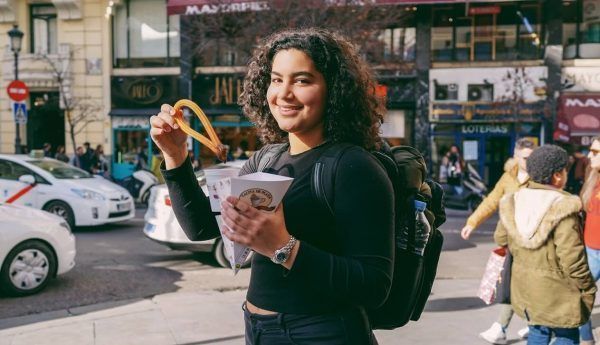 It's the second most popular drink at traditional breakfast, after coffee. Its consumption is more usual with sweet breakfasts (being present in 82.6% of these), but it's also consumed with salty ones (in 78.6%). It's common for coffee shops to sell cocoa powder for the milk, another of the favorite drinks to have with a sweet breakfast!
Bread with cold meats and sausages
According to the study that we mentioned, one out of every five breakfasts that are made at home are salted and the cold meats and sausages are present in 4.7% of these. Cooked ham is one of the favorites, but people choose cow's cheeses as well as are the softest, creamiest, and tender sheep's cheeses. Don't forget the jamon serrano, one of the favorites to accompany the bread!
The oil is present in 8% of the homemade breakfasts. A low amount for a product that has so many essential nutrients! But you eat it with something else, so the most common option is to pour it on top of freshly toasted slices of bread…. delisshhhh
Toasted bread with tomato
The tomato is a perfect food for breakfast because it has antioxidants, a little sprinkled with sugar and lots of water. Although the best thing is to eat a slice of bread with tomato (pan con tomate), with a little bit of oil that is added on top, but only if it's virgin olive oil. If we said before that bread with ham was one of the favorites, the best way to eat bread with ham is by adding grated tomato!
Roscon de reyes (King's cake)
Okay, this is more typical of the Christmas season but as families have it at home, and some colleagues bring it to work… it's kind of a "second breakfast" (or a mid-morning snack). In December and January, Spanish people like their coffee with a slice of roscon. We cannot help it… sweet treats drive us crazy!
Cats Hostels: Your best Hostels for backpackers Madrid