It´s true that Portuguese dishes are not the most well-known in the world, or as popular as other international dishes, which makes us sad because it's really delicious! Luckily for you, you'll have the opportunity to check it out when you come to visit us at Cats Hostel Porto or at Cats Hostel Lisbon…, which we will open in just a few months! Get ready to drool as we reveal all the traditional Portuguese food you need to know already.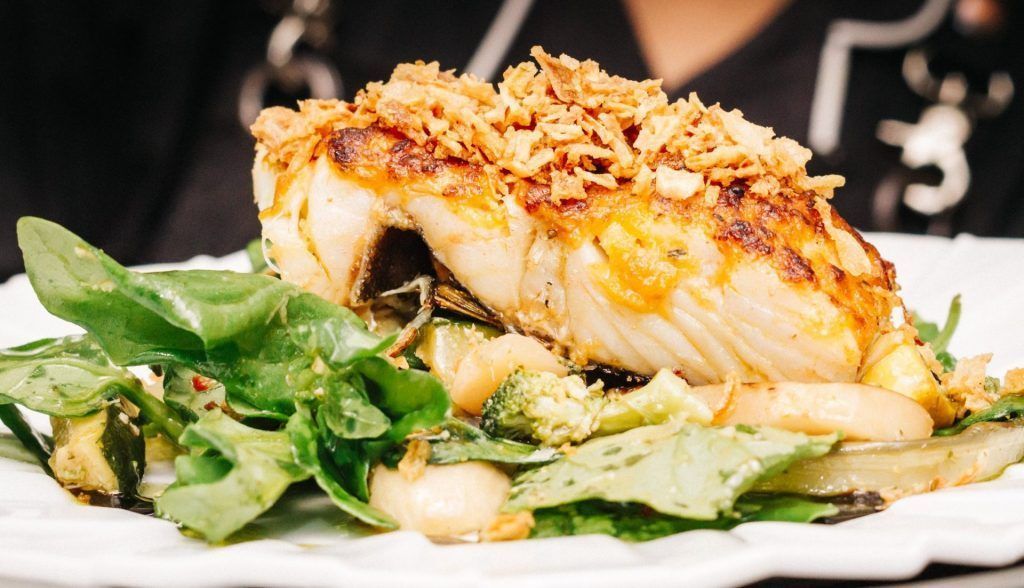 Credit: Facebook Tapabento
PORTUGUESE DISHES: STARTERS
In each region, there are different types of cheese that have the Portuguese certificate of origin among them:
Queijo de Azeitão: raw sheep cheese with a buttery texture, produced about 40 kilometers away from Lisbon.
Transmontano Goat Queijo: cured cheese with a strong aroma and slightly spicy flavor.
Queijo de Évora: quite spicy, strong and salty. It's sold in small pieces. As you could have guessed by its name, it's produced in the Évora region.
Queijo Terrincho: cured cheese made with milk from Terrincha sheep. Its flavor is mild and it's slightly oily.
Queijo Serra da Estrela: a creamy cheese made with raw sheep's milk from the Estrela mountains. One of the wonders of Portuguese cuisine!
Get yourself a cheese board as a starter, so you can try a few of them. Although, as is common in other countries, cheese boards are often eaten as a dessert.
Polvo à lagareiro is served as a cold appetizer in many restaurants (but if you want it as a main course, feel free to ask for it!). First, it is cooked and then grilled to be crispier. It´s sprinkled with plenty of oil. Fun fact: lagareiros are people who work producing olive oil, hence the name.
Alheira is a typical Portuguese sausage traditionally made with meats (chicken, turkey, veal, duck, quail, pheasant or rabbit). But nowadays, you can find them made from almost anything (cod or vegetarian). The name derives from alho (garlic) and although not all alheiras contain garlic in this day and age, it's still a common ingredient.
The most interesting fact about this sausage: it was invented by the Portuguese Jews in Mirandela (north of Portugal), who were forced during Inquisition to convert to Christianity in order to not to be expelled from the country (or be burnt alive…). As it was easy to identify Jews for not eating pork, they created this pork-free sausage to hang outside the house and not to be discovered by neighbors.
You can eat it in many restaurants in the north of Portugal (included Porto). It can be boiled, grilled, or even deep-fried!
Cod fritters or bolinhos de bacalao are a very traditional recipe and a nice alternative for all those who say "I don't do fish" because honestly… who doesn't like croquettes!? You can eat them on the spot, or you can have them packed to take home as a souvenir. But if you buy one with cream cheese inside, we just urge you to please eat it freshly made!
Credit: @pasteldebacalhau
This green soup that is eaten as a starter is made of Portuguese chard, cabbage strips, sausage, potatoes, onion, and garlic. No matter whether it's summer or winter, you'll see locals at the bars enjoying caldo verde as a tapa or a snack. We might suggest switching your spoon for a slice of bread for an even better taste!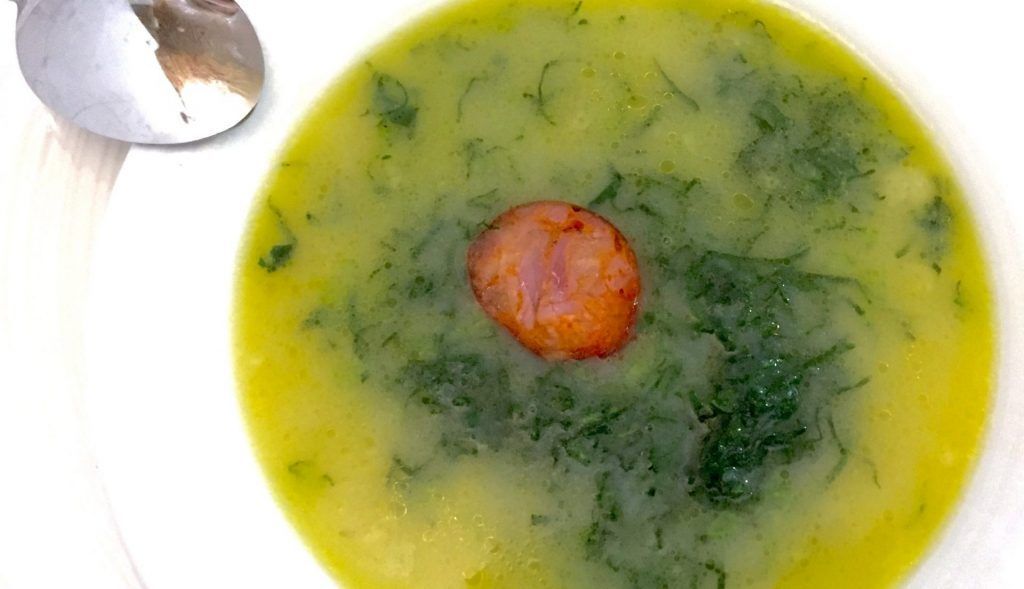 Credit: Flicker pcardo
TRADITIONAL PORTUGUESE FOOD: MAIN DISH
This typical Porto dish is a toasted bread sandwich, stuffed with different types of sausages and meat, covered with slices of gratin cheese, and topped with a spicy sauce. It usually comes with chips. If you like heavy food, you will love it!
Where to eat francesinha in Porto?
Lado B claims to have "the best francesinha in the world". At least, according to their sign outside and their menu. You'll have to go and verify yourself! They also have a vegetarian version with smoked tofu, soy sausage, and vegetables. Two people can eat for €20.
Café Santiago is another restaurant you'll find when 'googleing' Porto's best francesinhas. It's very touristy and you may have to wait a bit for a table, but when you try their secret sauce it´ll be worth it. Pay €11 for a francesinha with potatoes and beer. Great value for money!
And if you're looking for a place where the locals go, as #CatsHostelPorto staff, we like Brasão Coliseu brewery!
It's the quintessential dish in Portugal, so you CANNOT miss the bacalhau, in at least one (or several) of its varieties. It's prepared with more ingredients than you can imagine. Here are a few classic combinations:
Bacalhau à Zé do Pipo: cooked in milk, covered with homemade mayonnaise and spread mashed potatoes, and baked in the oven. It was created by the owner of a restaurant of the same name to participate in a national gastronomic contest. What a great achievement to have it included in many menus around the country!
Bacalhau à bráz / brás: a classic in Lisbon's menus. Also called bacalhau dourado (golden cod) for the color it acquires. It's served crumbled with scallions, garlic, eggs, straw potatoes, and black olives on top. It´s named after the chef of the tavern in the Barrio Alto where this recipe was first created, Mr. Braz.
Bacalhau a la Gomes de Sá: A classic in Porto's menus. It is crumbled and baked. It's served with potatoes, black olives, chopped parsley, cooked egg slices, and a stir-fry. Oh! And its name honors José Luis Gomes de Sá, a late 19th-century merchant that was said to have created the dish. You know, we're all about historic fun facts!
Credit: Casa Aleixo Restaurant Facebook
Do not miss either Bacalhau à Transmontana (with a little of Porto wine) or Bacalhau à Lagareiro (roasted and accompanied with mashed potatoes). Oh well, you might need to spend more days in Portugal than you thought!!
While walking through the city of Porto, you'll see that many restaurants announce outside that they serve "tripas", which translates to no other than guts. It's a kind of Portuguese stew (Cozido à Portuguesa). Since it's warm and heavy, it´s a traditional Portuguese food common during the winter. It's a casserole stew with sausage, white beans, ham, chicken, and more (depending on the recipe of each restaurant) and is often accompanied with rice. As you can see, it´s difficult not to have it for dinner!
And here's our fun fact: At the beginning of the 15th century, some brave Portuguese set sail to conquer Ceuta, and the population gave them their best food. They had to settle for leftovers, aka animal guts. Since then, the inhabitants of Porto are affectionately called "tripeiros". It's no longer considered a dish as modest as it was then, but it is still a cheap dish and adjusted to every backpacker's budget!
Credit: Flickr wordridden
Sardinhas assadas (Grilled sardines)
Toasted and crispy on the outside, fresh and tasty on the inside, and best when combined with a cool Super Bock beer, grilled sardines are typical for June celebrations! San Antonio is celebrated in Lisbon on June 13, but the sardine smell permeates the streets throughout the month. In Porto, you'll find street stalls as San Juan night approaches in June 24. Still if you travel to Porto during any other month, asking for them at a restaurant is always a win!
We could not write an article about traditional Portuguese food, without mentioning its wine. What else did you expect to complement all this food??? We know it's a huge topic that merits its own discussion, so that's why we invite you to read our post about the types of Port wine and the best wineries to try them.
PORTUGUESE DESSERTS
Pastel de Belém / Pastéis de nata (custard tarts)
Pastéis de nata also called simply "natas" are very typical throughout the country. In Lisbon, they are called "Pasteis de Belém," since they began to be manufactured in a monastery in the Belem neighborhood. At present, it's the factory next to the monastery that attracts thousands of tourists every day. If you don't have time to go there to try its secret recipe, you can also buy them at almost any bakery in the country. An affordable delicacy for all budgets!
They are muffins made with rice flour. Fluffy, tender, and sweet. Treat yourself with one as a snack or at breakfast!
You can guess by its name, these sweets can be found in the Sintra region (an unmissable visit when you're in Lisbon). Ask any bakery for a batch of queijadas, which are egg biscuits made with fresh cheese.
Aveiro is one of those essential day tours from Porto, and the moles are one of the essential delicacies to try: egg yolk cream and sweet sugar wrapped in wafers shaped like shells, fish, or clams.
Credit: Confeitaria Peixinho
Ok, coffee is not something strictly typical of Portugal, but we also devote a separate conversation to coffee because the Portuguese do give it a lot of importance. If you want to have one in an emblematic venue in Porto, you can do it in the Café Majestic, Café A Brasileira, or Café Guarany. And, in Lisbon, also in the legendary A Brasileira, Versailles, or Bettina & Niccolò Corallo.
Now that you´ve heard about all the best food awaiting you, it´s time to try them for yourselves! Book your flight and book your bed now! Do you also want to book a great restaurant? Check out this other article on our favorite places to dine in Porto.