Unless you arrive in Porto and someone is waiting for you at the airport or station with a sign that has your name on it, you'll be interested to know how to get from Porto airport to the city center using public transport and how to move around. Here's all you need to know about the metro lines, city map, stations, and tickets machines:
HOW TO GET FROM PORTO AIRPORT TO CITY CENTER
Porto Metro (Metro do Porto)
It is our recommended option as it is the fastest and most economical. Go to the ground floor of the airport, where the parking is, and take the violet line. Don't worry, it's the only line there!
Andante Card
It is mandatory to buy this card to travel from Porto airport to the city center by metro, bus, and train. (Read below more on these cards)
Important: the card can only be used by one person at a time. Don't make the mistake of charging all the trips on the same card for you and your friends. Many people don't know it and unless you speak Portuguese, you might not read it on the signs. And you can't use this excuse if the inspector walks in!
Schedule and frequency
The trains start operating at 5:58 am. They leave every 30 minutes.
In the other direction, Center – Airport, the ride starts operating at 6:10 am in the Estádio do Dragão Station (the first of Line E)
Rates
The metro in Porto is paid by zones. The airport is zone 4, so you must purchase the ticket Z4. The journey to the center costs €2
To this, you must add the price of the Andante tickets card if you are buying it for the first time: €0.60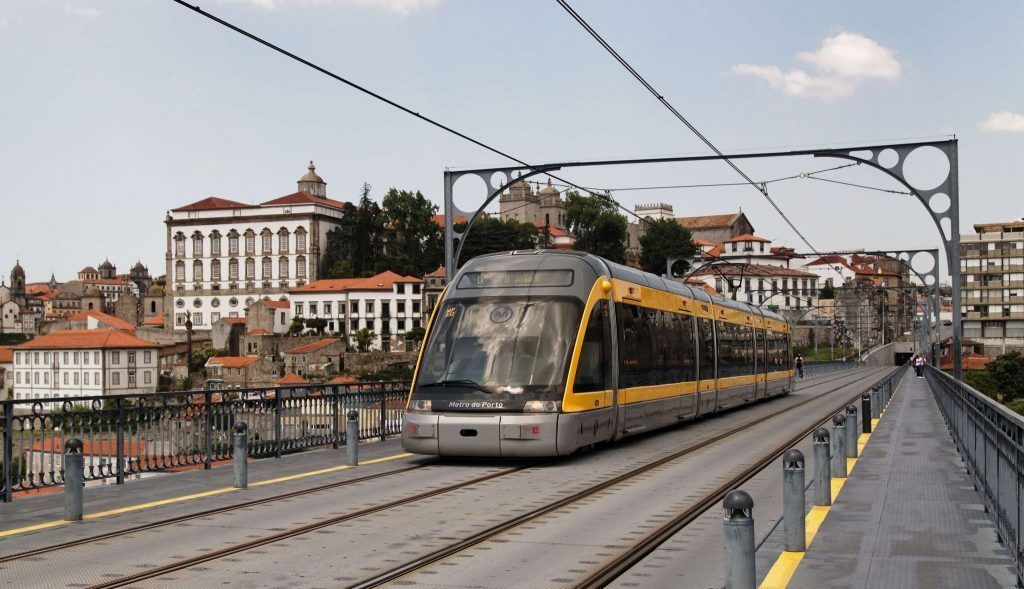 Get Bus: This shuttle bus service without stops takes you to the city center in 25 minutes for €2.80. The first service from the airport is at 10:00 am and they have rides every hour until 6:45 pm. Arrives at Campo 24 de Agosto bus station.
Goin' Porto Airport Shuttle Bus: The service starts at 4:45 am from the airport and they have rides until 00:35 am. You can access the available schedules and stops online. They have the single ticket (€5) or roundtrip ticket (€9). Arrives at Av. dos Aliados (near Sao Bento station)
 It takes longer than metro and shuttle services because there are more stops, and still, the cost is the same as the metro, so it is not our recommended option. The lines are 601, 602 and 604.
The most comfortable option and of course the most expensive one to go from Porto airport to city center. The trip costs around €25 (or €20 in Uber), but you could consider it if you're a group of 4.
Credit: Tiago Miranda
PORTO METRO LINES
In Porto, there are 6 metro lines, and 5 of them have parallel routes in the center of the city, as you can see in this Porto metro map below. So, there's not much variety of stations for the travelers.
São Bento (Line D): To visit the Sé Cathedral. Although the station is a tourist attraction itself.
Aliados (Line D): To visit the Church and Clerigos Tower.
The metro operates from 6:00 am to 1:00 am.
The frequency of trains run from 4 to 15 minutes depending on the day and time.
The metro in Porto is paid by zones. The single ticket costs €1.15 and the price increases depending on the area you are traveling to. If you know the station of departure and arrival, with this tool you can calculate the area and the price. You'll need a transport card for any journey you take.

CARD FOR PUBLIC TRANSPORTATION
The Andante card is a rechargeable paper card, mandatory for traveling by metro. You have these options:
Use this card to get on the metro, train, and local buses within the city of Oporto. Keep in mind it is not valid for the tram nor to travel to other nearby cities. If you buy a 10-trip pass, they automatically give you 1 trip for free. So, you'll have 11 trips during your stay in Porto. Remember that you pay by zones, so you'll have to know which area you are going to before recharging.
It's the card designed for tourists with unlimited travel for 24 or 72 hours, depending on which one you buy. But, once this period ends, the card is not rechargeable. The advantage of using this card is that you don't need to top up the tickets every time you use public transport and nor do you have to calculate prices and zones.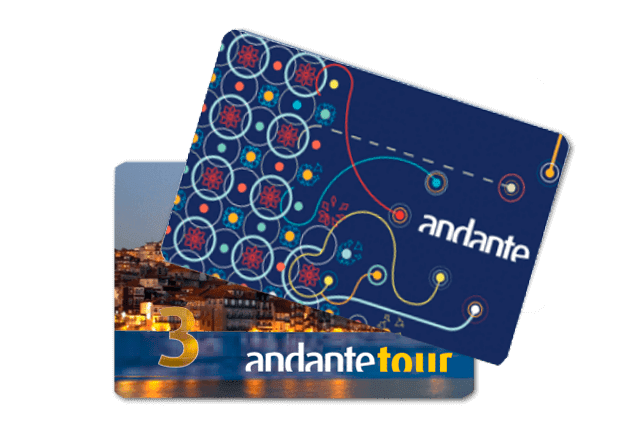 Other things you need to know:
The card can be purchased at any station and costs €0.60
Validate your ticket as it is mandatory, even if there are no turnstiles to enter. If you see a green light your validation is correct. If you see a red light your validation is incorrect, and you have to repeat the validation.
You can transfer and move for an hour without having to validate another time.
There's no transport card combined with discount or entry to tourist sites of interest.
You can't use Andante card in the tram. But you can buy a 2-day pass for 10 euros if you are interested in doing the routes of the 3 city lines.
Finally, we want you to bear in mind that Porto is a small city, which is well-traveled in 2 days, so you hardly have to take metro or bus! Make sure you know what to visit in Porto!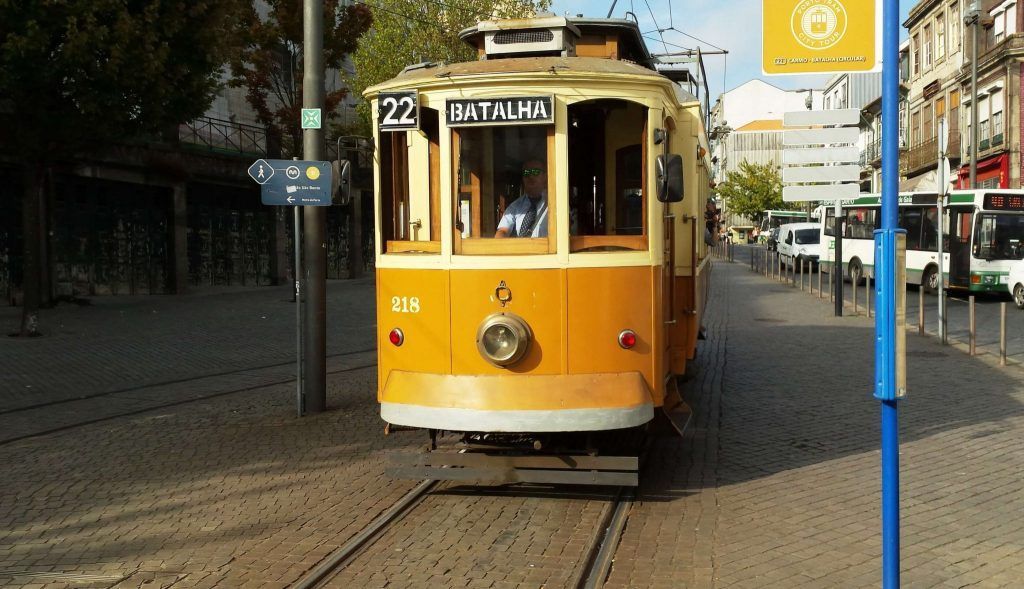 RENT A CAR IN PORTO
To move around Porto, you don't need to rent a car, but it will be the most convenient option to reach the neighboring cities of Aveiro and Coimbra.
Also, to explore the Porto beaches. With a car, it will be easier to stop at several of them!
The major car hire companies have offices at the airport: Hertz, Sixt, Goldcar, Avis, Europcar, etc. Although it is best to book before arriving.
If you're looking to hire a car at the Campanhã train station, you can do it in with Europcar, Avis, and Budget. There are not offices in São Bento station, but you can rent nearby, around Santa Catarina metro station. There's a currency exchange office in here if you need it.
Credit: eGuide Travel
Paid parking in the city center
There are few parking places in Porto, so it's better to have located the car parks in the city center:
Batalha park parking lot: Next to Plaza de Batalha in Rua de Alexandre Herculano, 385. The 24-hour ticket costs €11.
Parking D. Joao I: It's in the Praça de Dom João I and the 24-hour ticket costs €16.
Saba park Praça Lisbon: It's very central but is very expensive too, 12 hours would be around 16€. It's better to park in the suburbs and take the metro.
Let's be honest, it won't be super easy, but on Rua Águas Férreas you might find a place, which is close to Avenida dos Aliados. Also, on Avenida do Parque da Cidade and its perpendicular streets, from there you can take the metro!
The parking ANA is the official parking of Porto Airport. It is open 24 hours a day. Prices start at €3 a day, but you can calculate your rate online easily. You have to book a minimum of 6 hours in advance.