The Portuguese Way of Camino de Santiago from the middle ages, runs through historical centers of great interest, crosses medieval bridges, and crosses many green areas with spectacular landscapes. In addition, it´s easy: there aren´t any complicated heights or plateaus or slopes as marked compared to the Camino Francés.
The road to Santiago from Porto has 13 stages from the coast, and 10 within the inlands. Each stage involves staying overnight in one of the locations, so you will need this amount of days to finish the route. We´ll tell you what you can expect from each one!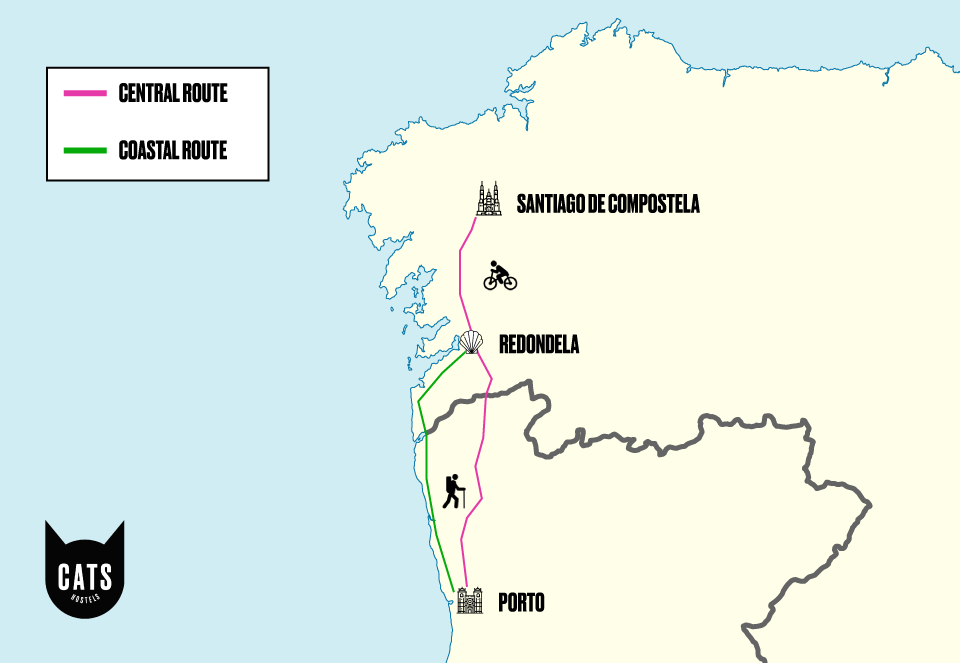 STAGES OF THE PORTUGUESE WAY FROM PORTO
The Camino Portugués of Santiago de Compostela has two official slopes: The central or inland Portuguese Way, and the Portuguese Way along the coast. There is a third option, the Literal Path, which is almost glued to the sea all the way but is not recognized an official Camino Portugués.
STAGES OF THE PORTUGUESE COASTAL ROUTE
This route was traveled by pilgrims in the twelfth century, but it has not been recognized as an official Jacobean route until recently, so it´s not yet the most popular and known. Its influx doesn´t stop growing every year and it´s easy to see why: it´s comfortable to do, doesn´t have steep slopes, and also has beautiful landscapes and beaches. There are officially 13 stages.
Starting in Porto is the best way to do the Camino Portugués along the coastal route. Part of one of its main points of interest, is the cathedral of Porto. The Royal Monastery of Santa María de Oia is also worth seeing, dating from the twelfth century, was once a hospital for pilgrims. And of course, contemplate the views from the Luis I Bridge. Sleep at Cats Porto hostel the night before to get a good night rest!
Stage 1, from Porto to Labruge is very entertaining, you go along the banks of the Duero River, and you walk along the coast watching the attractive beaches of the Atlantic coast.
Stage 2, from Labruge to Póvoa de Varzim, there´s no difficulty. You will see more beaches and have great views while crossing the river and have the opportunity to visit the historic center of Vila do Conde.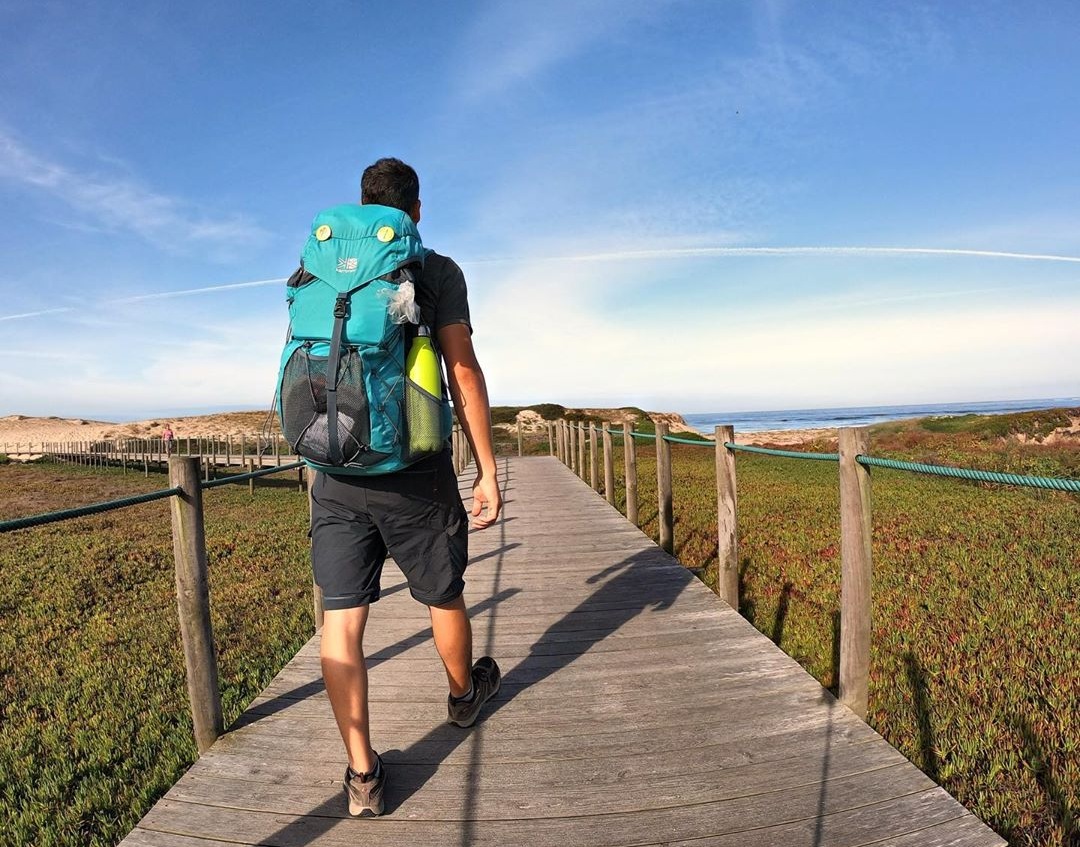 Credit: Instagram @aguavivatravel
Stage 3, from Póvoa de Varzim to Marinhas, goes through the beach, dirt roads and gets a little more difficult with sidewalks and cobblestones. It also crosses the Natural Park of the northern Portugal.
Stage 4, from Marinhas to Viana do Castelo, is entirely inland and we don´t walk on any beach, but we can enjoy the beautiful landscapes such as the path that goes down to the Neiva riverbed.
Stage 5, from Viana do Castelo to Caminha is long but is completely flat. You will cross numerous beaches, stone paths, and dirt tracks and pass through several military fortifications.
Stage 6, from Caminha to Mougás, is the first Spanish section of the Portuguese Way along the coast. To do this you have to cross the Miño river by ferry from Caminha to Galicia. A point of interest of this section is the Royal Monastery of Santa María de Oia, from the 12th century.
Stage 7, from Mougás to Ramallosa is very attractive to the eye, the mountain is crossed with views over a lighthouse and Baiona is one of the best-known places in Galicia for its historical past and natural environment.
Stage 8, from A Ramallosa to Vigo, has two variants, one indoor, the official one, that has a lot of asphalt and sidewalks. And another one that follows the coast and passes through several beaches and overlooks the Cies Islands. A great option for summer.
Stage 9 from Vigo to Redondela runs through forests and offers spectacular panoramic views of the estuary. The camino route ends in the historic center of Redondela, where you must follow the Central Portuguese Way to Santiago de Compostela.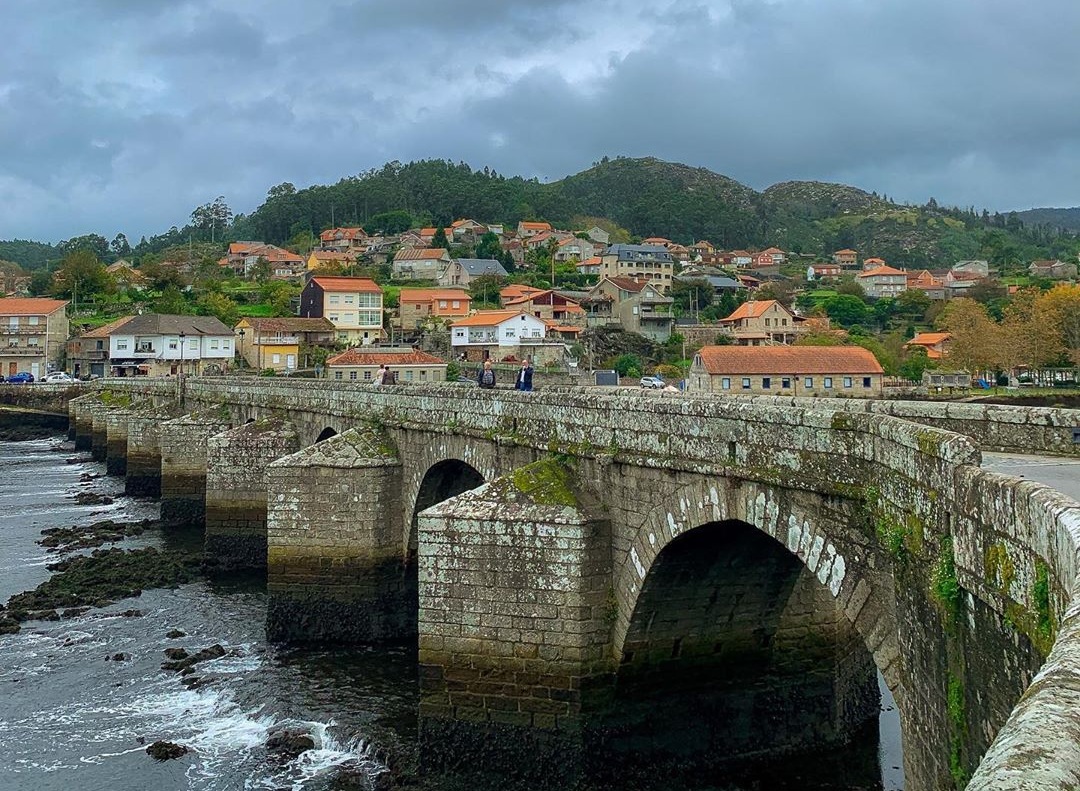 Credit: Instagram @desueza05
STAGES OF THE PORTUGUESE CENTRAL ROUTE
It has been so far the most important road starting from Lisbon, Coimbra, Porto or Tui. The stages of the complete road from Lisbon is 26. We will explain the 10 stages that exist from the route from Porto, place where you should devote at least one day to visit!
Stage 1 from Porto to Vilarinho is high mileage as a starting point, but not very difficult. The town of Vilarinho is perfect to rest and admire its architecture and heritage. It´s recommended to go stocked as there is not much to buy.
Stage 2 from Vilarinho to Barcelos takes place in agricultural areas, on dirt roads or local roads. It ends in the interesting city of Barcelos, known for the legend of the Rooster. Here you can enjoy a great Portuguese meal and see several points of interest.
Stage 3 from Barcelos to Ponte de Lima is long and somewhat more expensive. Ponte de Lima is the cradle of rural tourism in Portugal. Highlights include its historic center, which is very well preserved. Don´t forget to try the green vinho of this area, this will help following a day of long walking.
Stage 4 from Ponte de Lima to Rubiães is a wooded and pleasant route without much difficulty other than the ascent to the Alto da Portela Grande. You will walk much of the route to the side of the Labruja River.
Stage 5 from Rubiães to Tui is the part of the route that enters Galician territory across the international bridge over the Miño river, which separates the cities of Valença do Minho and Tui. Both are a classic stage end and have a high cultural interest and several accommodations.
Credit: Instagram @marchitoexpress
Stage 6 from Tui to Redondela may be long for some pilgrims. For this reason, it´s recommended to spend the night in O Porriño and complete the section from O Porriño to Redondela the next day.
Stage 7 from Redondela to Pontevedra is shorter. The first section you do next to the estuary of Vigo. The small hills are not too difficult. To get to Pontevedra you can follow a beautiful river path of the dos Gafos river.
Stage 8 from Pontevedra to Caldas de Reis runs into many rural towns and villages and crosses the national road at some points, but the tracks are easy. It ends in Caldas de Reis, famous for its hot spring spas.
Stage 9 of Caldas de Reis in Pontevedra a Padrón is a comfortable stage that doesn´t get rid of the national highway but passes through charming villages. Arrive to the town with the most famous peppers, although some pilgrims prefer to deviate a bit and sleep in the Convent of Herbón.
Stage 10 of Padrón to Santiago de Compostela runs through several villages that confirm that the goal is already close. One of the fundamental stops of this section is the collegiate church of Iria Flavia, and its beautiful cemetery, in which Camilo José Cela is buried in the shade of an olive tree.
After all these exciting stages you will reach the city where the Apostle rests, Santiago de Compostela. Congratulations pilgrim! It will have been intense, so make sure you get some rest before touring the beautiful streets of the city. Be sure to try Galician seafood, as well as broths, or the typical Santiago cake. Have a good Marc liquor for having accomplished this achievement!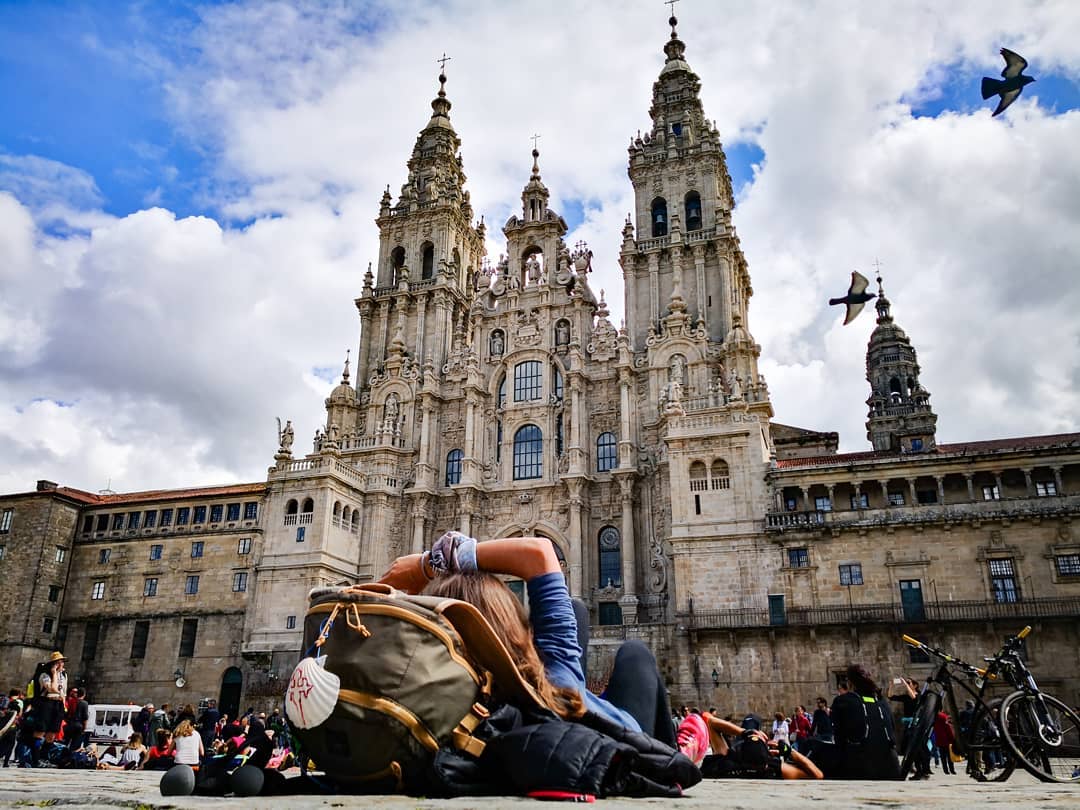 Credit: Instagram @uma_aguarela
CYCLING THE PORTUGUESE WAY FROM PORTO TO SANTIAGO
There is a clear advantage to doing the Camino de Santiago by bicycle, which is to cover more stages in less time. So, if you are an experienced cyclist, this option is highly suggested!
For a pilgrim to say that they have completed the trip, they must have traveled at least 100 kilometers on foot, but a cyclist pilgrim must have pedaled at least 200 kilometers. The city of Porto is approximately 240 km from Santiago by bike, so again, it´s the perfect place to set your starting point!
The Portuguese way is the second most important road for cyclist pilgrim. It´s not as saturated as the Camino Francés of Santiago de Compostela, and it´s not as hard as the primitive way. It also has two possible paths: one inland and one by coast.
Credit: Instagram @aclauz
PORTUGUESE WAY BY THE COAST BY BIKE FROM PORTO
This road is a gift for the eyes, discovering the sandy beaches of the Atlantic, the mountains and the fields. You can complete the route as your own pace, but we leave you with 2 popular variants in 7 stages. That is, 7 days, plus a 1-day visit in Porto prior to beginning the camino route and 1-day rest in Santiago.
First option:
Day 1: Arrival in Porto
Day 2: Porto – Póvoa de Varzim
Day 3: Póvoa de Varzim – Viana do Castelo
Day 4: Viana do Castelo – A Guarda
Day 5: Guarda – Vigo
Day 6: Vigo – Pontevedra
Day 7: Pontevedra – Padrón
Day 8: Padrón – Santiago
Day 9: Departure from Santiago de Compostela
Second option:
Day 1: Arrival in Porto
Day 2: Porto – Póvoa de Varzim
Day 3: Póvoa de Varzim – Viana do Castelo
Day 4: Viana do Castelo – A Guarda
Day 5: Guarda – Baiona
Day 6: Baiona – Redondela
Day 7: Redondela – Caldas de Reis
Day 8: Caldas de Reis – Santiago
Day 9: Departure from Santiago de Compostela
Credit: Instagram @aleleviajando
CENTRAL PORTUGUESE WAY BY BIKE FROM PORTO
The route will depend on the kilometers you want to complete, and you can do per day, but the usual thing is to complete it between 4 to 6 days. Here we suggest two quiet routes, 5 days, with 1 previous night in Porto before departure and 1 night in Santiago before your return home.
First option:
Day 1: Arrival in Porto
Day 2: Porto – Barcelos
Day 3: Barcelos – Valença do Minho
Day 4: Valença do Minho – Redondela
Day 5: Redondela – Caldas de Reis
Day 6: Caldas de Reis – Santiago
Day 7: Departure from Santiago de Compostela
Second option:
Day 1: Arrival in Porto
Day 2: Porto – Barcelos
Day 3: Barcelos – Rubiães
Day 4: Rubiães – Redondela
Day 5: Redondela – Caldas de Reis
Day 6: Caldas de Reis – Santiago
Day 7: Departure from Santiago de Compostela
TIPS TO GET THE MOST OF CAMINO DE SANTIAGO
Plan when to do it: The road will be in better condition between the months of May to October, with the summer months being the most popular. Some other pilgrims are encouraged to do it between October and April, but these aren´t the most popular months due to the cold and rain. If you have the flexibility, you should do it in June or September, as it will be less crowded. The first waves of pilgrims begin to arrive from the first weekend of July and lasts until the last weekend of August.
Follow the shells and yellow arrows: It is impossible to get lost, by bike or on foot, if you always follow the official signage. Never get out of the way or use alternative routes, even on rainy days, when the water or mud scares you. Official routes will always be more safe than unofficial routes. Also, following the marked path is the most eco-friendly way to travel there are fewer chances that you make a bad impact on the natural environment.
Credit: Instagram @raphaela.ana
Physically prepare yourself: We recommend starting to get your body ready two months before embarking on the road. Start walking short routes and make them longer and longer. Later, try to make walk hiking trails with slopes.
Wear good shoes: Do not skimp on good hiking boots or trekking shoes. You will depend on the state of health of your feet all the way, so give them your best! It is VERY advisable to have worn the shoes before departure to make it comfortable for you. Wear the shoes during your period of physical preparation. It´s also important that you DO NOT squeeze your feet in, or your toes touch the tip of the shoe. Since feet swell after many walking days, some buy half the number larger than usual. Regarding the socks, we suggest buying ones that are made of fiber and don´t have any seaming on them.
Baggage: The weight of your backpack should be around 10% of the weight of your body. There is currently a luggage transfer service, in which they´re responsible for taking your luggage from one stage to another. This is an option if you suffer from back problems, and of course, if you make the trip by bike. Although it seems to many that this is cheating and that it takes away a bit of charm, many say that thanks to this service they have been able to enjoy the journey and landscapes much more.
Credit: Instagram @el_doutora_
Leave the rush behind: Although you´re physically well to enjoy the road it´s better to do it with a peace of mind. Don´t overwalk, nor ride your bike for too long. Do the right thing and enjoy sometime to discover the different places and to talk with fellow walkers or locals. If for whatever reason you are not well, it´s preferable to do one more night and spend an extra day recovering. Rushing the trip is not recommended!
Where to sleep: As it´s not as crowded as the French road, there are no specific accommodation for pilgrims, but there are several municipal hostels or Youth Inns (in Portuguese). It´s easy to find accommodation and don´t forget your pilgrim credential. Not even the plugs! If you choose the Portuguese Way along the camino coastal, you will also find a wide range of hotels and pensions in almost every stage.
What to keep in mind: The Camino de Santiago is safe, making it a great destination to travel alone. Some people may try to dissuade you and tell you that it´s dangerous. But look for people who have already done it before asking for opinions from those who have not done so! You will see that their answers may surprise you. Also, it´s fine if you spend a little time alone. It´s normal to connect with someone in the first stage, and not separate from that person until the end!
Credit: Instagram @guanchesadventures
"Bom caminho!" in Portugal Or "Buen camino!" in Spain: Those will be the phrases you say and listen to during these days. It´s how peregrinos (pilgrims) and bicigrinos (bike-pilgrim) salute. Tell us, are you already visualizing what will be an unforgettable experience?