Let's be honest here… Once you get to Madrid of COURSE you're gonna want to do
A LOT of partying.
You're gonna live it up each night like it's the last night of your lives. And don't you know it!
Madrid's night life is one of a kind: it's full of passion and laughter… unconfessable secrets and euphoria. The art of partying is now laced into our DNA, and that's why CATS Hostel has come up with this wild pubcrawl, perfect down to the last detail! Come and discover how we Madrileños get down!
Now for a RIDICULOUSLY low price you can enjoy drinks (included) with your new pals in the best bars in town. Make sure you get your hands on tickets while our promotion is on! And then… get ready to be whisked away by Madrid's brilliant night scene!
OUR OFFER 
1 PUBCRAWL 7€ (-50%) WITH 2 BEERS/SANGRÍA + SHOTS + ENTRANCE TO BARS AND NIGHTCLUBS
Our pub crawl leaves from the CATS bar, where we'll give you 2 beers or sangrías and shots for free to get you warmed up! Once we've all gathered there, we'll head out to two of Madrid's best bars and then the most emblematic nightclub in all of the city. Of COURSE with shots in each place we go to. Your entry will be covered and there'll be no waiting in long lines to get in. Are you ready to paint the town red?!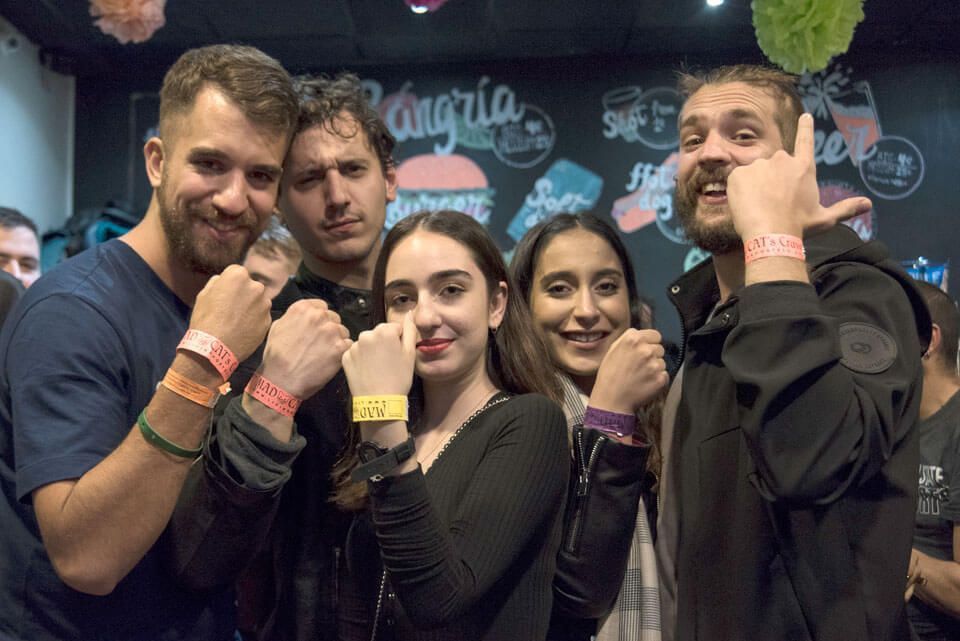 HOW YOU CAN TAKE STAY + PARTY PROMO?:
To get your hands on this mega DEAL the only thing you need to do is make sure you select STAY+PARTY when you make a reservation on our website. You can pay the total at Check-in for the reservation, and we'll give you your Pubrawl voucher there and then, After, head to the bar and  exchange it for your Pubcrawl bracelet.
Just think of it… the buzzing atmosphere of Madrid at night, the wild dancing and getting to know the coolest of people… it's all guaranteed! We can't promise you'll remember everything the next day though!